Article and Video Reviews on Home Improvement Products, Tools and Services





Listed below are various product reviews on home improvement products and materials that will help the homeowner understand what is most appropriate for their next home improvement remodeling and repair project.

If you are a homeowner planning your next home improvement, remodeling, or repair project be sure to fully consider the products that you will be incorporating into your home prior to investing in them. Some products are better for certain weather conditions or house traffic patterns then others.
For example, vinyl siding maybe very appropriate in a moderate climate, but may not be appropriate on the top of a mountain where there are frequent high winds. Another example is carpeting.
Carpeting looks great and when used in a non-high traffic area will last a long time. However, put it in a home entrance way and within months it will be stained and compacted.
Book Review 
Product Review Videos 
Tool Product Reviews
Drywall Tool Product Reviews
Flooring Product Reviews
Kitchen and Bath Counter Top Product Reviews
Home Siding Product Reviews
Paint and Stain Product Reviews
Decking Material Product Reviews
Walkway and Patio Product Reviews
Home Product Reviews
Heating and Cooling System Reviews
Stone Products
---
For more help on building a home addition, see HomeAdditionPlus.com's Home Addition Bid Sheets. Our Home Addition Bid Sheets provide you with the knowledge and information on how to plan a home building project, and what to look for when hiring contractors. They also include detailed cost breakdown tables and spreadsheets for estimating your own new home construction building costs.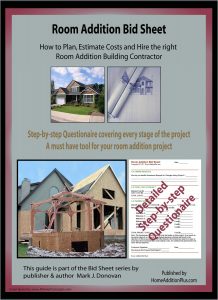 ---
Free Home Addition Price Quotes with No Obligation!
Fill out our 3-5 minute quick and easy form, and receive a free price quote on a house addition from one of our prescreened and licensed home addition contractors. This process is free and there is no obligation to continue once you receive your house addition price estimate.