DeWalt's New Line of Chalk Reel Marking Products offer High Performance, Durability, and Ease of Use
By Mark J. Donovan







In this video Mark Donovan of HomeAdditionPlus.com reviews DeWalt's DWHT47144 Chalk Reel.

Whether you're a professional home construction trades person, or a do it yourself homeowner with major home remodeling plans, one tool you can't go without is a chalk reel.

A chalk reel, also known as a chalk line, is an extremely useful tool for marking fast and crisp straight lines on building material.
For example, framers use them for marking long straight lines on subfloor decks for the alignment and placement of sectional stud walls.
In addition, they use them for marking roof rafter tails that need to be trimmed and for marking sheets of plywood that need to be ripped with a circular saw. Roofers use them to maintain straight lines when shingling a roof.
Similarly, carpenters use them when siding a home to ensure clapboards and/or wood shingles are installed in straight and level rows.

Virtually every trades person in the home construction business has unique reasons to own and use a chalk reel. Consequently, if you're a DIY homeowner that finds yourself frequently using a circular saw, or has plans for installing house siding, shingles or flooring, then you too should add a chalk reel to your toolbox.
And when it comes to deciding on what chalk reel to purchase, I highly suggest looking no further than DeWalt.
DeWalt has just announced a new line of marking products, or chalk reels, that are second to none. I recently acquired one of their new chalk reel kits, the DWHT47144, and was extremely impressed with its design, strong construction and ease of use. Like all of the marking products in the family, the DWHT47144 has a smooth and quiet operating helical gear system. My particular unit has a 3:1 gear ratio for quick line retraction, and is made of high-impact ABS material for ruggedness.
The DWHT47144 never jammed on me when extracting or retracting the chalk line. The fact that the gear system is sealed to prevent contamination of it, I'm sure is attributable to why it operates so smoothly and quietly, and without fail. The unit, moreover, made perfect chalk lines every time I snapped a line with it. In particular I liked the over-molded soft grip. Never once did it slip out of my hands when stretching it out over a large span to snap a chalk line.
Also, with the chalk reel's large mouth opening I found adding chalk to it to be a breeze. In addition, its tear drop shape allows it to double as a plumb bob. It also has a stainless steel hook and crank to resist corrosion and abuse.
The DWHT47144 chalk reel kit comes with the chalk reel itself, with 100 feet of braided chalk line, and a 4oz plastic bottle of red chalk. Other products in the new line of DeWalt marking product line include a similar kit with the same chalk reel but with blue chalk. They also offer a higher performance premium version with a higher gear ratio (6:1) for even smoother and faster operation, and compact and larger capacity units for carrying less and more chalk and line, respectively.
In regards to pricing, the particular unit I have costs $9.99 at the time of this writing, and that price includes the 4oz bottle of chalk. See DEWALT DWHT47144 Chalk Reel and Kit, Red
. The compact version costs only $6.99 and the large capacity version costs $29.99. In regards to availability, you can find them at The Home Depot and other home improvement centers, as well as online at Amazon.
So whether a professional trades person in the home construction business or a DIY homeowner, if you need to mark long straight reference lines I highly suggest taking a look at DeWalt's new line of marking products. You won't be disappointed.
---
For more help on building a home addition, see HomeAdditionPlus.com's Home Addition Bid Sheets. Our Home Addition Bid Sheets provide you with the knowledge and information on how to plan a home building project, and what to look for when hiring contractors. They also include detailed cost breakdown tables and spreadsheets for estimating your own new home construction building costs.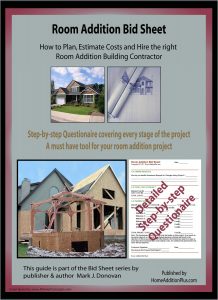 Related Information
---
Additional Framing Resources from Amazon.com
---
Free Home Addition Price Quotes with No Obligation!
Fill out our 3-5 minute quick and easy form, and receive a free price quote on a house addition from one of our prescreened and licensed home addition contractors. This process is free and there is no obligation to continue once you receive your home addition price estimate.