The Perfect Workbench Vise for the Workshop, Garage or Jobsite
By Mark J. Donovan







In this video Mark Donovan of HomeAdditionPlus.com reviews Rockwell Tool's BenchJaws.

Rockwell Tool's BenchJaws is the latest product in its portable workstation clamping product family. It follows in the footsteps of its older brother the JawHorse.

The BenchJaws is a workbench vise that is rugged, versatile, and portable. In less than 10 minutes you can have the BenchJaws mounted onto a workbench and ready for use.
The really cool feature with the BenchJaws is that it allows hands free clamping. As with its older brother the JawHorse, it has a foot pedal for clamping items in place. This allows you to use both your hands to position and hold an item in position as you clamp down the vise on the item. With each pedal stroke the jaws close 3/4 of an inch.
Once the vise is snuggly holding the item in place, simply throw the lock switch to keep the item secured in the vise. To remove the item from the BenchJaws release the lock switch and push back on the back jaw to remove the item from the workbench vise.
The BenchJaws's rugged power-coated steel construction allows it to support loads up to 220 lbs and it has a clamping force of 2,200 lbs.

What really makes the BenchJaws so useful is it's wide jaws. Most workbench vises only support a maximum opening of 10 inches. With the BenchJaws, it can support a clamping spread from 0 to 16 inches in width.
In addition, you can buy an extension Jaw accessory that allows the BenchJaws to support an opening from 16 to 24 inches. You can also purchase a multi-purpose jaw accessory that allows the BenchJaws to clamp tapered, circular, and odd shaped objects.
The Rockwell BenchJaws mounts to any workbench that is at least 34 inches in height. Simply attach the metal mounting corner L-shaped bracket to any corner of a bench and the BenchJaws snaps down and screws into place in just minutes.

The unique mounting corner bracket also enables 90o rotation of the BenchJaws on the workbench.

Though the BenchJaws only weighs 22 lbs it again can support a 220 lb load. Consequently, it's important that the workbench be fastened to the floor or wall to ensure that the bench doesn't tip or move while working on an item clamped in the BenchJaws vise.
The BenchJaws is perfect for the DIY Homeowner's workshop, garage or basement. Also, because it's lightweight and portable, it's ideal for the home remodeling contractor on jobsites.
You can find the Rockwell BenchJaws (RK9006) at www.RockwellTools.com, Menards, Woodworkers Supply, and other regional home improvement centers around the country. The Rockwell BenchJaws sells for $99.99, and its Extension Jaw (RW9207) and Multi-purpose Jaw (RW9208) sell for $39.99 each.
---
Dress Up Your Home with Crown Molding – For specific instructions on installing crown molding see the "Installing Crown Molding Ebook".  The "Installing Crown Molding Ebook" will show you how to properly measure, select, cut and install crown molding like a professional carpenter.  It provides detailed instructions on every step in the process of installing crown molding and includes 28 instructional pictures! Order and Immediately Download today!. 100% Money-Back Guarantee if you are not satisfied.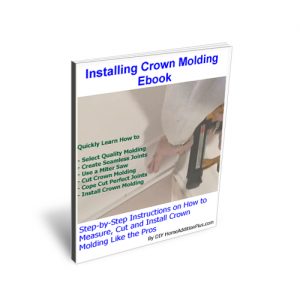 For information on installing Window and Door trim see HomeAdditionPlus.com's  Installing Interior Window Trim Ebook and  Installing Interior Door Trim Ebook.  These Ebooks are loaded with pictures and provide easy to understand, step-by-step instructions, on how to install interior window and door trim.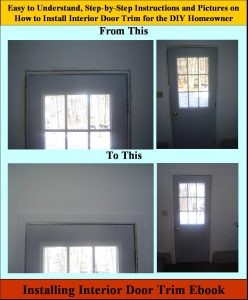 Related Information
---
Additional Finish Carpentry Resources from Amazon.com
---
Free Home Addition Price Quotes with No Obligation!
Fill out our 3-5 minute quick and easy form, and receive a free price quote on a house addition from one of our prescreened and licensed home addition contractors. This process is free and there is no obligation to continue once you receive your house addition price estimate.