DeWalt Introduces new 20V Max Atomic Compact Series Cordless Power Tool Family
By Mark J. Donovan







In this video Mark Donovan of https://www.homeadditionplus.com reviews DeWalt's DCK278C2 Atomic Compact Series Combo Drill Driver and Impact Driver combo kit.

These tools are the latest in DeWalt's line of 20VMax power tools, but specifically with this new family of tools, they 'e compact power tools. The DeWalt Drill Driver DCD708, and the DeWalt Impact Driver DCF809 can also be bought separately.
I recently received the DeWalt Drill Driver DCD708 and the DeWalt Impact Driver DCF809, in a combo kit called the DCK278C2. As the name implies, these are compact 20V Max Lithium-Ion battery powered compact power tools. 
The combo-kit also comes with not only the DCD708 Drill Driver and DCF809 Impact Driver, but also a 20V max charger, two 1.5 A-H batteries, two belt-clips, and a rugged carrying bag for the tools and accessories. To purchase the kit see: DEWALT DCK278C2 ATOMIC 20-Volt MAX Lithium-Ion Brushless Cordless Compact Drill/Impact Combo Kit
The DCD708 drill-driver tool has a max power capability of 340 UWO (Unit Watts output), with a selectable 2 speed mode that supports max RPM rates from 0 to 450, or 0 to 1650 RPMs.

There are also 15 clutch settings on it and it has a chuck size of ½ inch. The tool only measures 6.3 inches in length and weighs only 2.4 lbs, without the battery in it.

I found the DCD709 driver-driver tool to be very compact compared to its predecessors, while at the same time very rugged feeling and well balanced when the battery was installed in it.
It also had plenty of power, and the 1.5 A-H of battery is sufficient enough to minimize the number of times you have to recharge it during a project. It also has a bright LED on it that lights up the target work area when using the tool.
In regards to the DCF809 Impact driver, it's even slightly smaller than the compact DCD709 Drill-Driver, but punches a bigger Max Torque capability, coming in at 1700 in-lbs. This new DeWalt impact driver has a no-load speed that ranges from 0 to 2,800 RPM, supports a drive size of ¼ inch, and provides 0 to 3,200 impacts per minute. This said, unlike the DCD709 drill driver with two speed modes, the DCF809 only has a one-speed mode setting.
The DCF809 tool measures only 5.1 inches in length and weighs only 2.1 lbs without the battery in it. The DCF809 also has 3 LEDs at the end of the chuck to really light up the target work area when using the tool.
Again, like the DCD709, the DCF809 fits like a glove in your hand. Both tools are also very rugged feeling and have rubber grips to really ensure your ability to hold onto the tool when using it.
I was very impressed with both tools, and felt they are ideal for tight-quarter applications, and will be sufficient for most home DIY projects.
The tools and batteries come with a 3-year limited warranty, and the batteries come with a 3-year free service warranty. The tools service warranty is only for one year. There is also a 90-day money-back guarantee if you are not happy with the products, which I do believe you will be happy with them.
You can purchase the DeWalt's DCK278C2 Atomic Compact Series Combo Drill Driver and Impact Driver combo kit at Amazon.com. Here is a link to it: https://amzn.to/2GEbHaW. You can also find the kit at Home Depot and other home improvement centers. The combo kit is a bit pricey, coming in at $229 for the combo kit at the time of this review. Hopefully we will see that price come down in short order.
To conclude, I would recommend both of these products. I tested them both, drilling holes and driving in screws into a 4"x6" pressure-treated wood beam with the DCD709 drill driver, and driving in screws with the DCF809. In all tests that I conducted, the tools performed effortlessly, with no amount of reduction in the brushless DC motor RPM rates.
---
For more help on building a home addition, see HomeAdditionPlus.com's Home Addition Bid Sheets. Our Home Addition Bid Sheets provide you with the knowledge and information on how to plan a home building project, and what to look for when hiring contractors. They also include detailed cost breakdown tables and spreadsheets for estimating your own new home construction building costs.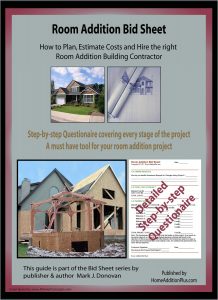 Related Information
---
Additional Framing Resources from Amazon.com
---
Free Home Addition Price Quotes with No Obligation!
Fill out our 3-5 minute quick and easy form, and receive a free price quote on a house addition from one of our prescreened and licensed home addition contractors. This process is free and there is no obligation to continue once you receive your home addition price estimate.