DEWALT's New FLEXVOLTTM System and Associated Family of 20V/60V/120V Cordless Tools Provide Best-in-Class Performance
By Mark J. Donovan







In this video Mark Donovan of HomeAdditionPlus.com reviews DEWALT's FLEXVOLT System and DCS575 cordless circular saw.

This week I got my hands on two new hot products from DEWALT, the FLEXVOLT™ system and their new cordless 60V MAX 7-1/4" circular saw (DCS575).

The FLEXVOLT™ system is unique in that its associated Lithium-Ion batteries can change output voltage depending upon what type of DEWALT cordless tool they are installed in, e.g. 20V MAX, 60V MAX, and 120V MAX DEWALT cordless tools.
In addition, the patent-pending batteries can be used in many of their older model 20V MAX DEWALT cordless tools.
I received a 20V 6.0Ah rated battery that is charged in the FLEXVOLT™ charger system.
I received a 20V 6.0Ah rated battery that is charged in the FLEXVOLT™ charger system.

When used in DEWALT 20V MAX cordless tools, the 6.0Ah FLEXVOLT™ battery provides up to 4X the runtime of the original 20V MAX batteries that came with the tool.

DEWALT also plans to have a 9.0Ah rated battery available in early 2017 that will provide even longer run-times and expand support of their brushless 60V MAX* and 120V MAX* FLEXVOLT™ cordless power tools.
Due to the flexible output voltage capability and longer runtimes afforded by the FLEXVOLT™ batteries, along with DEWALT's extensive family of new 20V/60V/120V MAX tools and existing 20V MAX cordless tools that can take advantage of the FLEXVOLT™ system, professional contractors and DIY homeowners alike can now more than ever retire their corded power tools. Even as just an expert DIY homeowner, I love not having to pull out extension cords every time I need to make one or two saw cuts. Cordless tools speed up the time on small or large projects, reduce clutter on the jobsite, and improve power tool safety by not having to deal with loose and tangled power cords.
The second Item I received this week from DEWALT was their new cordless 60V MAX 7-1/4" circular saw (DCS575) that utilizes the FLEXVOLT™ battery system. I have used the saw on a number of small cutting projects so far, and I have to say it is an extremely impressive saw. It's got all the power of my corded circular saw, but is quieter, lighter and has a few additional perks. For example, it has an integrated work light, and electronic automatic braking system when you release your finger from the trigger. Normally on my corded circular saw it takes several seconds for the saw blade to spin down. Thus, I have to always hesitate and look twice before sitting the saw down in fear that I might accidentally cut the power cord or something else, even though the blade guard is shielding nearly eighty percent of the saw blade. With the new DEWALT DCS575 circular saw, the blade stops spinning almost immediately as soon as you release your finger from the trigger.
The DCS575 circular saw has all the other features typically found on a corded circular saw, including an adjustable depth lever, a lower blade guard, a bevel adjustment lever, a kerf indicator, an auxiliary handle, and a kerf indicator. In regards to the adjustable depth lever, it can be adjusted such that the saw blade has a maximum cutting depth of 2-9/16". In addition, the bevel adjustable lever enables the saw to make bevel cuts from 0 to 57o, with indicator marks at 22.5o and 45o.
In terms of its cutting capacity, it can be used on any type of wood framing project, be-it cutting 2-by material, as well as plywood and OSB sheathing, hardwoods and flooring products. From a cutting metric standpoint, DEWALT claims the saw can cut up to 339 2x4s (SPF) on a single charge with one FLEXVOLT™ battery. I haven't confirmed this fact, but suffice it to say I used it for a couple of hours making a lot of lumber cuts, and I did not observe any loss in power cutting performance during that timeframe.
In terms of its construction the DCS575 circular saw is solidly constructed and weighs in at 12.35 lbs. The high performance brushless motor is encased in a ruggedized plastic housing and the saw's shoe and saw blade shield/guard are constructed with a high-grade aluminum.
The saw also comes with a blade wrench and a blade lock button for making installation and removal of saw blades, easy, fast and safe.
As with all of the FLEXVOLT™ tools, the DCS575 comes with the standard DEWALT 3 year limited warranty, 1 year free service, and 90 day money back guarantee. As for the FLEXVOLT™ batteries, they come with a 3 year limited warranty, a 3 year free service, and a 90 day money back guarantee.
The DEWALT DCS575T2 FLEXVOLT 60V MAX Brushless Circular Saw with Brake and 2 Battery Kit, 7-1/4″
retails for $299 at the time of this writing, and includes a FLEXVOLT™ System charger and one 6.0Ah battery, as well as a carrying bag.
---
For more help on building a home addition, see HomeAdditionPlus.com's Home Addition Bid Sheets. Our Home Addition Bid Sheets provide you with the knowledge and information on how to plan a home building project, and what to look for when hiring contractors. They also include detailed cost breakdown tables and spreadsheets for estimating your own new home construction building costs.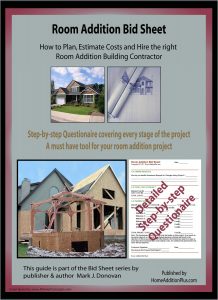 Related Information
---
Additional Framing Resources from Amazon.com
---
Free Home Addition Price Quotes with No Obligation!
Fill out our 3-5 minute quick and easy form, and receive a free price quote on a house addition from one of our prescreened and licensed home addition contractors. This process is free and there is no obligation to continue once you receive your home addition price estimate.