Steps to Building an Addition onto a House
By Mark J. Donovan







Adding onto an old house is a major undertaking, but often a smart idea. It involves significant planning, coordination, time and most importantly, money.

However, adding onto an old house offers many benefits. It provides more finished living space to your house, it prevents having to uproot your family from its home, and it can often increase the value of your home significantly more than the actual cost of adding onto your old house. 
So, before choosing to sell your old house and move into a new larger one, consider all the benefits of house additions before and after.
Summarized below are the key phases and steps to building an addition to a house.
One upfront suggestion – If you do decide to add onto your house, make sure you have a good camera. The adding onto a house before and after pictures and videos are a great way to capture the experience and to share it with others when the project is complete.
Planning Phase of Adding onto an Old House
If the idea of adding onto an old house is the right decision for you, first consider the planning that is necessary to realize your dream. Its best to start to realize your house addition plans by writing down the features you want in your new room addition, thinking carefully about the house additions before and after features you want to see. The top priority features that should be of most importance to you are the size of the house addition, its functional living space, and where and how it will tie into the existing house.
After the top priority features, consider the type of building materials and amenities you want to see in the house addition, such as the types of doors and windows, siding material, interior wall and flooring materials, appliances, and lighting fixtures.

Once you've written down the top-level features and amenities you want in your house addition, come up with a budget that you want too stick to.





After setting a budget for adding onto your old house determine where the money is going to come from, e.g. savings, financing, or a combination of both. If financing is required, talk to local banks to find the best financing tool for your house addition project, and what they require to obtain the financing, e.g. contractor quotes, blueprints, permits.
Next, sketch out the house addition using graph paper, or even better, a house design software package. It is often the case when adding on to an old house, that integrating the house addition into the existing house could be quite complex, so you may need to enlist the services of an architect to generate a set of house plans.
Whatever path you decide upon to generate house plans, the house plans will need to be of sufficient detail to enable general contractors to provide you with accurate house addition cost estimates, and for you to obtain building permits.
Coordination Phase of Adding onto an Old House

In regards to finding the right general contractor for your old house addition project, you may want to consider the "Room Addition Bid Sheet".

It provides a detailed contractor bid sheet questionnaire for general contractors to fill out, and it also includes a separate excel spreadsheet that is effectively an "adding onto a house calculator". 
The excel spreadsheet has two sets of columns; one for budgeted cost estimates and another for actual costs, for every phase of the house addition project.
In addition, the Room Addition Bid Sheet has a section for homeowners that provides expected responses from prospective general contractors on all the phase of building a house addition, and provides guidance on how to interpret those responses so that you make the right choice on who to hire as a general contractor.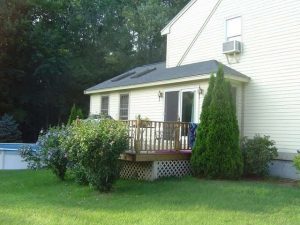 Time Requirement for Adding onto an Old House
Adding on to an old house takes time. The average house addition construction time is 3 to 4 months. This includes from breaking ground for the house addition foundation all the way through to completing the finish electric phase and installing the final interior trim work and flooring materials.
When obtaining general contractor bids for your house addition project make sure the bids include detailed time lines for the construction.

The more detailed the schedule time line the more likely the project will get done on the time quoted by the general contractor.

Also, seeing a detailed schedule as part of the construction bid is a good litmus test on how detailed orientated and how well of a planner the general contractor is.

Also keep in mind that while adding on to an old house there is significant inconvenience placed on the occupants of the home.

Use this Room Addition Bid Sheet to save money, time and hassles on your room addition project.
In particular, there are subcontractors at your home all throughout the day during the construction of the house addition. In addition, there is noise, dirt and dust that will need to be contended with.
So be prepared for some annoyances and hassles during the construction of the house addition.

Occasionally homeowners on such house addition projects will temporarily move out of their home during the heaviest phases of the construction, and in particular when the contractors "punch" into the existing house and tie the new house addition into it.
In conclusion, adding on to an old house is a common solution for families looking to gain more finished living space in their home. It is typically more economical to do than selling an existing home and buying and moving into a larger one. It also allows the family and children not to be uprooted from their friends and school.
So, if you think building a room addition onto your old house is right for you, go for it and embrace the project. And while enjoying the construction and the realization of your dreams, just be sure to take plenty of pictures and videos of the construction. Adding onto a house before and after pictures and videos are a great way to look back after the project is complete, and see the transformation of your home.
---
For more help on building a home addition, see HomeAdditionPlus.com's Home Addition Bid Sheets. Our Home Addition Bid Sheets provide you with the knowledge and information on how to plan a home addition project, and what to look for when hiring contractors. They also include detailed cost breakdown tables and spreadsheets for estimating your own new home addition building costs. As part of the home addition bid sheet product is a separate Excel worksheet that includes an accurate home addition calculator.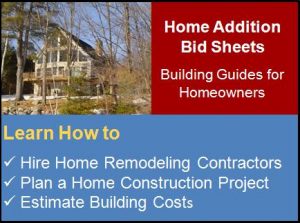 Related Information on Room Addition Cost Estimating
---
Free Home Addition Price Quotes with No Obligation!
Fill out our 3-5 minute quick and easy form, and receive a free and accurate home addition price quote on a home addition from one of our prescreened and licensed home addition contractors. This process is free and there is no obligation to continue once you receive your house addition price estimate.