Cantilever Bump Outs are Ideal for Bathrooms and Window Bays
By Mark J. Donovan







Cantilever bump out additions are a cost-effective way for gaining a little additional space in a bathroom or in a kitchen eating area to make them more functional. Gaining a little space may not seem worth it on the surface.

However, being able to gain 8 to 10 square feet of extra space with a bathroom bump out addition can allow a half bath to be transformed into a full bath.
In addition, bathroom bump out costs are much less expensive than building an entire new bathroom on the side or back of your house.

Similarly, a bump out window in a kitchen can expand the kitchen's dining area to not only make it more comfortable to sit, but also to create a nice outside view. And again, bump out window framing costs are a fraction of the cost of building a full kitchen addition onto the side or back of your house.

Why Bump Out Addition Cost Less

Bump out additions are ideal when a homeowner is looking to save some money and doesn't want to involve exterior excavation and concrete footing and foundation wall work.
Bump out additions, however, are not simple. As a matter of fact, they can be quite complex and require the same type of planning that is involved in building an attached room addition that has its own foundation walls.


If you think a cantilever bump out addition is right for your needs, then draw up some plans and bring them to your local building inspector for review and to obtain the proper permitting. 





Cantilever Bump Out Addition Planning Considerations

When planning a cantilever bump out addition there are a few design considerations that you will need to take into consideration.

First, you'll need to temporarily shore up the ceiling in the house a couple of feet in from where you plan to punch a hole in the exterior wall for the bump out addition. This means you'll need to construct a temporary framing wall while you tear into the exterior wall and remove some wall studs and install a header to create the bump out area.

Second, cantilevered bump outs can only extend outwards up to four times the width of the floor joists.

So, if you have floor joists that are 2x12s then you can extend the bump-out up to 4 x 11.25 inches, or 45 inches.


In addition, the new floor joists that are used to create the bump out addition area, must be sistered to the existing floor joists into the home.

Cantilever Bump Out Window Additions
Sistering means to attach the new floor joists to the existing ones by overlapping them and nailing them together.

The bump out addition floor joists need to overlap the existing floor joists by four times the length the bump out is extending outside the foundation wall. So, for example, if the bump out addition was to extend outwards from the house foundation by two feet, then eight feet of sistering overlap is required between the bump out floor joists and the original floor joists inside the house's foundation walls.
Bump out Addition Roof Considerations


A lean-to roof is usually the most cost-effective roof solution for a bump out addition.

A half-hip roof is also another solution that adds some extra character to the bump-out addition, but it comes with added cost and complexity.

Whatever the roof solution you are considering, try to avoid having the roof line cut into a second-floor window area to avoid having to eliminate the window and saving construction costs.

Use this Room Addition Bid Sheet to save money, time and hassles on your room addition project.
So, whether you're considering a bathroom bump out addition or a bump out window area, keep these design considerations in mind before meeting with your local building inspector and starting construction on your bump out addition project.
---
For more help on building a home addition, see HomeAdditionPlus.com's Home Addition Bid Sheets. Our Home Addition Bid Sheets provide you with the knowledge and information on how to plan a home addition project, and what to look for when hiring contractors. They also include detailed cost breakdown tables and spreadsheets for estimating your own new home addition building costs. As part of the home addition bid sheet product is a separate Excel worksheet that includes an accurate home addition calculator.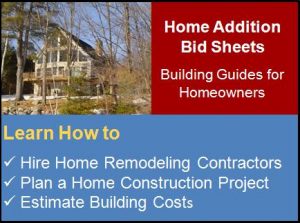 Related Information on Room Addition Cost Estimating
---
Free Home Addition Price Quotes with No Obligation!
Fill out our 3-5 minute quick and easy form, and receive a free and accurate home addition price quote on a home addition from one of our pre-screened and licensed home addition contractors. This process is free and there is no obligation to continue once you receive your house addition price estimate.