How to Plan, Estimate Costs and Hire the right Room Addition Building 
Contractor so you save Time and Money, and prevent Hassles!

–

Immediately Download



Are you considering building a room addition onto your home but don't know where to begin or what contractor to hire?

Would you like to develop your own room addition construction plan and cost estimator breakout spreadsheet to compare with contractor bid sheets?

Do you know what questions to ask to ensure you're hiring the right contractor for you're room addition project? 
Avoid a home improvement project disaster with my Room Addition Contractor Hiring Guide!
My Room Addition Bid Sheet (contractor hiring guide) provides you with the knowledge on how to plan a room addition project, and what to look for when hiring contractors for your new room addition.
A free and and editable Cost breakdown Excel Spreadsheet is also included for estimating your own room addition costs.
My Room Addition Bid Sheet Includes! 
"Request for Quote" Remodeling Contractor Checklist
Separate and Editable Cost breakdown Spreadsheet for estimating your own room addition costs.
Extensive room addition and remodeling guidance, to ensure you get your room addition plan
completed properly and on time and budget.
Free Customer Support – Same day response to any questions you may still have after reading this bid sheet.
Order Now and Immediately Download today.
The Room Addition Bid Sheet costs only $17 and is 100% guaranteed.
This button will allow you to use your Paypal account, or credit card, and process securely through Paypal. *** Be sure to click on "Return to Merchant" to download your order at end of purchase. ***
We guarantee 100% privacy. Your information will not be shared. See our Privacy Policy page.
The immediately downloadable Acrobat PDF format file can be viewed with free Acrobat Adobe Reader software, once we have received payment. You can make as many copies as you need for your project.
The 29 page Room Addition Bid Sheet includes

!
A request for proposal (RFP) form that you submit to the prospective general contractor(s) for them to complete and provide back to you for review.

RFP form contains over 160 questions on all aspects of the construction of your room addition.

E

xtensive advice and tips on how to work with a general home contractor and his subcontractors to ensure a successful Room Addition project

Suggested Cost Estimates

Suggested Time Intervals for all Project Phases

Key Building Products Manufacturing List

Separate and Editable Cost Breakdown Spreadsheet (Excel format)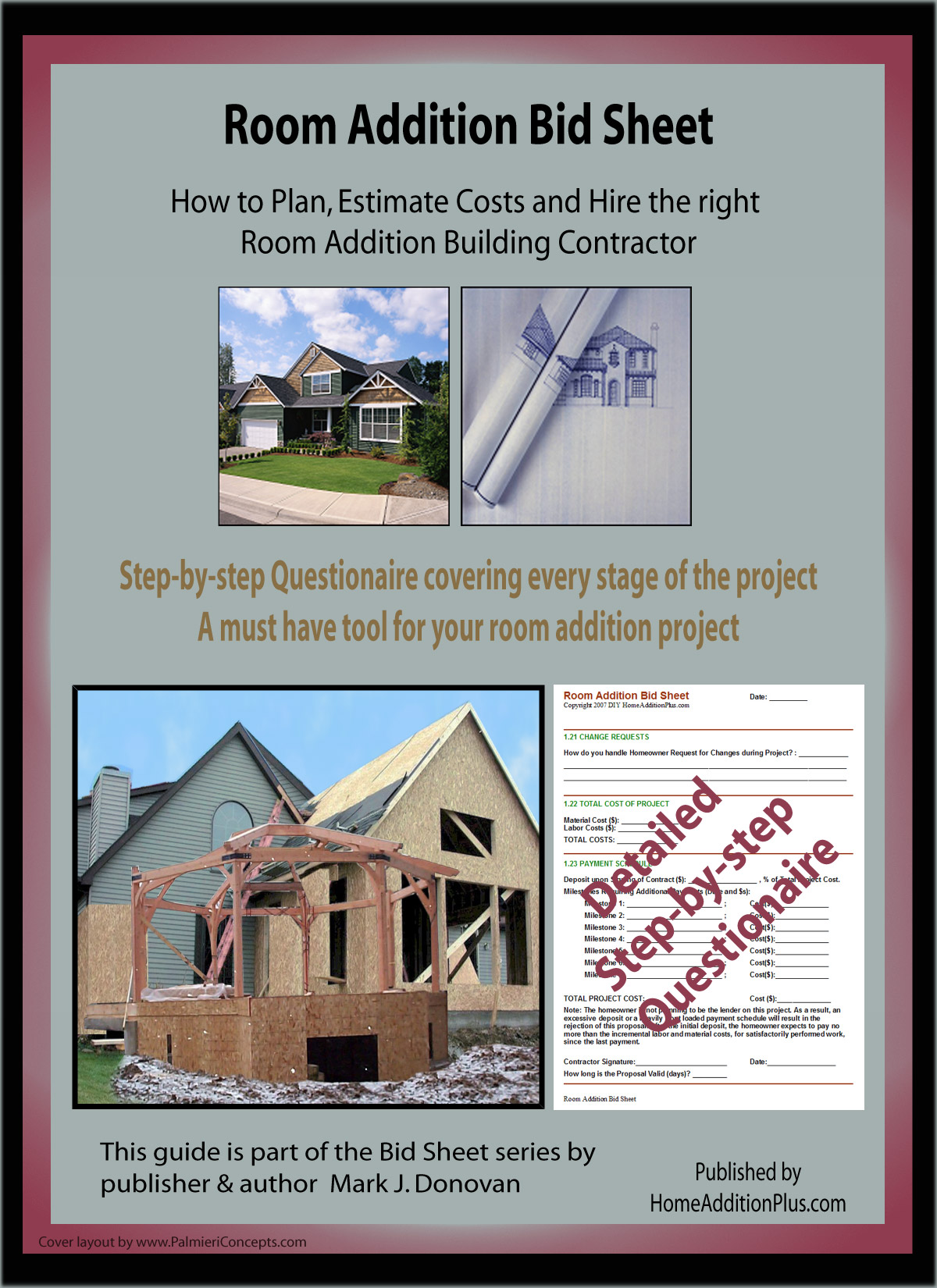 100% Guaranteed or your Money Back!!
Free Customer Support and Service with Purchase
Reduce Risk and Save yourself Time and Money!!
Learn what Questions to Ask before you hire Contractors!
Room Addition Bid Sheet construction topics discussed include:
Excavation, Foundation, Rough Framing, Electric, Plumbing, Heating, Drywall, Insulation, Finished
Carpentry, Flooring, Painting, Driveway and more!
Start and Complete Dates and estimated times to complete specific trade activities
Workman's Compensation and Liability Insurance Coverage
Debris Disposal
Manufacturers of Key Products
Budget Allocations for Flooring, Appliances, etc.
Estimated Home Building Costs and Payment Schedules
Reference Checks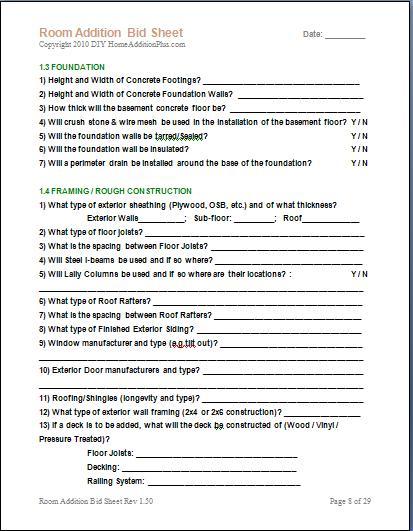 Room Addition Bid Sheet Sample Page
 The Room Addition Bid sheet also provides estimated home addition building costs and time intervals for each phase of the home addition project, as well as a spreadsheet form for entering your own room addition costs.
Reduce Risk and Save yourself Time and Money!!
The Room Addition Bid Sheet costs only $17 and is 100% guaranteed.
Order Now: HomeAdditionPlus accepts Paypal and Credit Cards.
This button will allow you to use your Paypal account, or credit card, and process securely through Paypal. *** Be sure to click on "Return to Merchant" to download your order at end of purchase. ***
We guarantee 100% privacy. Your information will not be shared. See our Privacy Policy page.
Customer Feedback
"Mark, Thank you for making this checklist available. I was unaware of many of the potential pitfalls of our project. Now we can place the contractors on an even "playing field". Another plus is we now have a much better understanding of construction practices /materials and time lines." – Larry Kanarek 8/2/12
"Mark, Thanks for the sample. We ended up ordering the Bid Sheet last night and am impressed with how easily it breaks down many elements of the bid and build process. This will save us a bundle of time and make for a professional presentation to potential builders." Jim 3/21/07
Why Buy my Bid Sheets?
Over the past 30+ years I have been involved with countless home construction projects. As a teenager I helped my father build several homes and various home additions. After obtaining a Bachelor of Science degree in Electrical Engineering, I purchased an unfinished home. I used my previous home construction experience to frame, insulate, wire, and plumb the unfinished portions of the home. I repeated this process a couple of years later on another home. In subsequent years, and with much of my own personal sweat equity, I continued to do other home construction projects, including room additions and garage additions. In 2000 I tackled tearing down an existing home and building a new one in its place. I wrote about my experiences with this project, and in 2005 the DIY Network (a premium cable television network) filmed a show featuring this project. The show was part of a series and was titled "Be Your Own General Contractor – Vacation Homes".
Throughout my years of home construction experience, and while pursuing a professional career in the high tech space, I gained a wealth of experience working with general contractors and sub-contractors. I learned how to work with them, and most importantly how to hire them. From personal experience, hiring the wrong contractors is a disaster. Besides wasting a lot of time and money, you also find yourself in protracted arguments and difficult situations that no homeowner needs or wants.
To help homeowners learn from my experiences I created a series of bid sheets. Each bid sheet is comprised of several key sections. The first section is an extensive questionnaire for potential contractors to complete. It asks all the questions that should be asked, but most homeowners are unaware to ask. The second section consists of rough expected costs and work intervals associated with the particular project. The final section is a comprehensive summary of my tips and advice on what to watch out for when reviewing contractor responses to the questionnaire.
In addition, for major remodeling and construction bid sheets, I also provide a separate Cost Breakdown spreadsheet in Microsoft's Excel format to allow homeowners to estimate and track their own actual home construction costs.
By utilizing my Bid Sheets you will save time, money and hassles, and most importantly get the home construction project completed the way you want.
If for any reason you are unhappy with one of my bid sheets, I will provide you with a 100% complete refund, no questions asked.
Mark J. Donovan