Wet and Forget worked Fantastically on my Moss Covered Asphalt Roof Shingles
By Mark J. Donovan







In this video Mark Donovan of HomeAdditionPlus.com talks about his use of the product called "Wet and Forget". "Wet and Forget" is a solution that eliminates moss, mold, mildew and algae from a number of types of surfaces including: asphalt shingled roofs, metal roofs, terra cotta tiled roofs, concrete patios, asphalt driveways, and paver walkways.

As the name suggests, I simply sprayed "Wet and Forget" onto my asphalt shingled roof in a ratio of 1 part "Wet and Forget" and 5 parts water, and forgot about it.
I also made sure, as the directions state, that there was no chance of rain for at least five hours after applying Wet and Forget.
Suffice it to say, two weeks after using Wet and Forget on my roof I am fully thrilled with the product. It has worked as advertised, and it was very easy to apply. No scrubbing or brushing was required.

Just five days after applying "Wet and Forget" to my roof I noticed that the clumps of moss on my roof shingles had turned from a vivid green color to an orange/brownish look. Then, a day later, after a heavy rainstorm, I noticed clumps of the dead moss lying on the ground next to my house.

"Wet and Forget" from Amazon.com
Much of the dead moss had simply washed off my roof during the heavy rain storm. To this day, more dead moss continues to fall off the roof. I expect that within another month the roof will be totally free of any moss.
If you have a similar moss or mold covered asphalt shingled roof I highly recommend Wet and Forget. You can find it at any home improvement center and it was relatively inexpensive.
---
For more help on Shingling Your Home's Roof, see HomeAdditionPlus.com's Asphalt Shingle Roofing Bid Sheet. The Asphalt Shingle Roofing Bid Sheet will help to ensure that your roof won't end up with a blue tarp over it and a dumpster sitting in your yard for weeks as you wait for the roofing contractor to come back and finish roofing your home.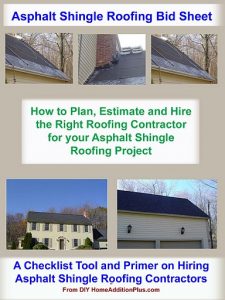 Asphalt Shingle Roofing Cost Estimator
---
Related Roofing Information
---
Additional Roofing Resources from Amazon.com
---
Roofing Price Quotes For FREE, No Obligation!
Fill out our 3-5 minute quick and easy form, and receive a free price quote on roofing from one of our prescreened and licensed roofing contractors. This process is free and there is no obligation to continue once you receive your roofing price estimate.