Ridge Vents work in Conjunction with Soffit Vents to Provide a Complete Attic Ventilation System
By Mark J. Donovan







Mark Donovan of HomeAdditionPlus.com discusses ridge vents and how they work in tandem with soffit vents to provide a total attic ventilation system.

When installing a ridge vent, carpenters sheath a roof leaving approximately a 1 inch space on each side of the roof at the top of the roof ridge. A ridge vent typically spans nearly the entire length of the roof ridge.

In order to prevent water and insect infiltration a ridge vent is installed over the ridge roof line. There are two basic types of ridge vent.
The aluminum ridge vent is an all-in-one type of ridge vent system that is simply nailed into place over the ridge of the roof.
Aluminum ridge vents often wind up loosening up over time as the wind and weather tend to work the nails loose.

Plastic ridge vents are more commonly used today. Plastic ridge vents are nailed into place with 3 inch galvanized nails. 

Shingle tabs are then nailed into place over the plastic ridge vent. When done properly only a couple of roofing nails are visible at one end of the ridge vent. A dab of roofing sealant over the nails ensures a dry attic.
The standard rule of thumb for the required amount of attic ventilation is 1:300 when using continuous venting systems such as ridge vent and continuous soffit vent. What this specifically means is that for every 300 square feet of insulated ceiling space with a vapor barrier there should be 1 square foot of attic ventilation. If a vapor barrier is not used with the insulation, or if non-continuous vents are used, that ratio drops to 1:150. The standard ratio of roof ridge vent to soffit vent is 50/50, though some builders prefer a ratio of 40/60 with 60% being soffit vent.
---
For more help on Shingling Your Home's Roof, see HomeAdditionPlus.com's Asphalt Shingle Roofing Bid Sheet. The Asphalt Shingle Roofing Bid Sheet will help to ensure that your roof won't end up with a blue tarp over it and a dumpster sitting in your yard for weeks as you wait for the roofing contractor to come back and finish roofing your home.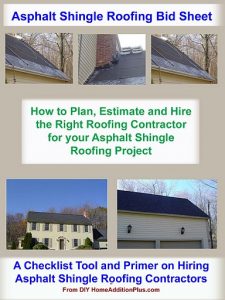 Asphalt Shingle Roofing Cost Estimator
---
Related Roofing Information
---
Additional Roofing Resources from Amazon.com
---
Roofing Price Quotes For FREE, No Obligation!
Fill out our 3-5 minute quick and easy form, and receive a free price quote on roofing from one of our prescreened and licensed roofing contractors. This process is free and there is no obligation to continue once you receive your roofing price estimate.