How to Clean Roof Valleys
By Mark J. Donovan







In this video Mark Donovan of HomeAdditionPlus.com shows how to clean roof valleys to prevent ice and water damage during the winter months.

Allowing leaves and pine needles to sit on your roof all winter is a recipe for disaster. Water and ice can build up and work their way under the roof shingles and damage the shingles. In addition, water can back up behind the shingles and enter into the home's attic causing water damage throughout the house.
Steps for Cleaning Roof Valleys
Using a roof rake, some Wet and Forget, and a leaf blower, you can clean your roof valleys in short order.
To clean your roof valleys start by using a roof rake to remove the leaves and crusted pine needles. 
Then use a leaf blower to blow off any of the small and loose leaf and pine needle debris.

Finally, apply some wet and forget on the roof to kill off any of the moss, mold and mildew that is residing on the roof.

The entire process for cleaning your roof valleys, and the rest of the roof, should take no more than an hour.

Just make sure you're safe and use a ladder that is in good condition and securely placed on the ground and resting snugly up against the house roof.

"Wet and Forget" from Amazon.com
---
For more help on Shingling Your Home's Roof, see HomeAdditionPlus.com's Asphalt Shingle Roofing Bid Sheet. The Asphalt Shingle Roofing Bid Sheet will help to ensure that your roof won't end up with a blue tarp over it and a dumpster sitting in your yard for weeks as you wait for the roofing contractor to come back and finish roofing your home.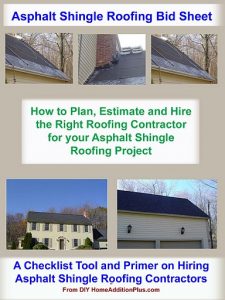 Asphalt Shingle Roofing Cost Estimator
---
Related Roofing Information
---
Additional Roofing Resources from Amazon.com
---
Roofing Price Quotes For FREE, No Obligation!
Fill out our 3-5 minute quick and easy form, and receive a free price quote on roofing from one of our prescreened and licensed roofing contractors. This process is free and there is no obligation to continue once you receive your roofing price estimate.