Soffit Vents work in Tandem with Ridge Vents to Yield a Complete Attic Ventilation System
By Mark J. Donovan


Mark Donovan of HomeAdditionPlus.com discusses soffit vents and how they work in parallel with ridge vents to provide a total attic ventilation system.
Soffit vents play a major role in protecting the life of your roofing shingles and lowering your home energy bills by helping to remove heat and warm moisture from the attic.
Working together with roof vents, soffit vents enable cooler air to be drawn in at the roof eaves and for hot and/or warm moist attic air to be expelled from the ridge vent or roof vents.

By keeping the attic cooler and drier the living space of the home can be maintained at a more comfortable and moderate temperature. 
A cooler attic also helps to extend the life of the roofing shingles. Also, by eliminating warm moist air from the attic during the winter months, attic mold and mildew growth, and ice dams can be prevented.
Soffit vents are available in continuous strips or in individual pieces. Individual soffit vents are sold in circular or rectangular form and are designed to fit in between rafter bays.
It is important to make sure attic insulation does not block the soffit vents, or otherwise the attic ventilation system will not function.

The standard ratio of soffit vent to ridge vent is 1:300 when using continuous venting systems such as ridge vent and soffit vent.

What this specifically means is that for every 300 square feet of insulated ceiling space with a vapor barrier, there should be 1 square foot of attic ventilation.

If a vapor barrier is not used with the insulation, or if non-continuous vents are used, that ratio drops to 1:150. 

Use this roofing installation checklist to save time and money on your roofing project.
The standard ratio of soffit vent to ridge vent is 50/50, though some builders prefer a ratio of 40/60 with 60% being soffit vent.
---
For more help on Shingling Your Home's Roof, see HomeAdditionPlus.com's Asphalt Shingle Roofing Bid Sheet. The Asphalt Shingle Roofing Bid Sheet will help to ensure that your roof won't end up with a blue tarp over it and a dumpster sitting in your yard for weeks as you wait for the roofing contractor to come back and finish roofing your home.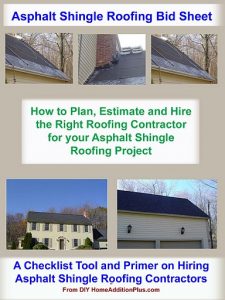 Asphalt Shingle Roofing Cost Estimator
---
Related Roofing Information
---
Additional Roofing Resources from Amazon.com
---
Roofing Price Quotes For FREE, No Obligation!
Fill out our 3-5 minute quick and easy form, and receive a free price quote on roofing from one of our prescreened and licensed roofing contractors. This process is free and there is no obligation to continue once you receive your roofing price estimate.