Building Home Extensions Require Significant Upfront Planning
By Mark J. Donovan







Each year thousands of homeowners build home extensions. Unfortunately for many, their home addition projects are plagued with design issues and cost overruns. House extensions are major home construction projects, and consequently substantial upfront planning is necessary. Far too often homeowners jump into home construction projects without sufficient research and planning first.

To mitigate the risks of a home extension construction disaster it is important to develop a home construction build plan.
A build plan begins by formulating a home extension checklist that lists all of the tasks needed to be performed in a successful home extension project.
Developing Home Extension Plans
First and foremost it is critical to develop a complete set of home construction plans. The home extension plans should contain an entire suite of documents including; initial sketches of the home addition, architectural structural drawings, plot plans and an itemized list of build materials.




With a complete set of plans you then go out and solicit contractor bids.

When developing construction plans it is important to make sure that the new home extension ties in aesthetically and functionally with the existing home. Consequently it is wise to hire an architect. It is also important to not overbuild the addition relative to both the home and local real estate market conditions. 
A local real estate agent can provide insight into the market value of homes in your area to assist you in determining the maximum size of your home extension.
Hiring Home Remodeling Contractors
Once you have a set of construction plans in hand, you can then go out and solicit contractor bids for your construction project. When soliciting contractor bids make sure to thoroughly interview the contractors and check references. Look for reputable contractors that have a long and successful history of building home extensions. Make sure the contractors are licensed, bonded and insured.
Also make sure to carefully review all of the contractor bids with each respective contractor. The contractor bids should include detailed and itemized cost breakouts for all phases of the home extension construction project. In addition, the bids should include timelines for completing the project.

Also carefully read and understand the payment structures. An initial deposit of 10-15% is not to be unexpected. 
However, after the initial deposit, payments should be made after work is completed as described in the contractor bids.
Also make sure contractor bids specify who will pull permits and arrange for inspections during the home extension building.
---
To help in obtaining accurate and consistent home extension contractor quotes, see my Room Addition Bid Sheet. The Room Addition Bid Sheet provides a request for quote section that you can provide to prospective building contractors. It also includes a comprehensive home extension cost breakdown table, in Microsoft Excel format, that allows the contractor to include his projected home extension costs for every phase of the project.
---
Financing Home Additions

After developing a complete set of plans, selecting a contractor, and obtaining accurate bids you should be armed with enough information to visit your local banks for obtaining financing. If you plan to pay cash for the home extensions costs, then this step is unnecessary, however for most homeowners financing will be required.

When obtaining a home equity loan or construction loan, make sure you borrow enough funds to complete the home extension construction project.
Typically you should add another 5-10% to your contractor bids to account for unforeseen contingences that always end up happening.
By developing a detailed home extension checklist, and addressing upfront these three key issues your chances of a successful home construction project will be dramatically improved. So take the necessary time up front to plan well. By doing so you will ensure a construction project that is built to your specifications, as well as meets your budget and schedule.
---
For more help on building a home extension, see HomeAdditionPlus.com's Home Addition Bid Sheets. Our Home Addition Bid Sheets provide you with the knowledge and information on how to plan a home building project, and what to look for when hiring contractors. They also include detailed cost breakdown tables and spreadsheets for estimating your own new home construction building costs.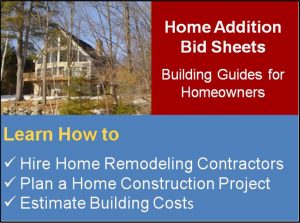 Related Information on Building Home Extensions
---
Free Home Addition Price Quotes with No Obligation!
Fill out our 3-5 minute quick and easy form, and receive a free price quote on a house addition from one of our prescreened and licensed home addition contractors. This process is free and there is no obligation to continue once you receive your house addition price estimate.