Considerations When Building an Inlaw Suite onto your Home
By Mark J. Donovan







Building an inlaw suite room addition can be a win, win, win solution; a win for you, a win for your aging parent(s), and even a win for your municipality.

As we get older and our kids move out of the house, we often begin to realize our parents are getting older too and begin to need our help more frequently. At first, it may be just helping them with some chores around their home. It may also involve taking them to do some errands or driving them to the doctor's office. 
Then, as time marches on, we begin to notice they need even more assistance. This is when thinking about building a mother in law room addition, or inlaw suite, may be a realistic solution that brings the elderly parent(s) closer to you, while still allowing them some privacy and autonomy.
Building an inlaw suite onto your home not only is a benefit to your aging parent(s), but it can also be a benefit to you. Not only can you have piece of mind knowing that you can check on your parent(s) much easier, but you also have the opportunity to share more time with them in their final years, hopefully bringing you closer together. Moreover it gives your children an opportunity to benefit from their grandparent's wisdom and life experiences. Lastly, it prevents putting an elderly parent into a nursing home, where there life savings is quickly sucked dry.
If your parents are getting older you may want to seriously consider building a mother in law room addition. Besides all of the benefits just mentioned, after your parent passes the mother in law suite can be used for adult children or rented out to other people. Often municipalities look very favorable on building mother in law room addition suites as it provides a means for satisfying state requirements for offering affordable rental units in the town or city.





Visit Building Inspector before Moving Forward with Adding a Mother In Law Suite

If you are contemplating building an inlaw suite addition for an aging parent there are a number of mother in law suite design ideas you may want to think about. And in some cases, they may be state or municipal required. Thus, make sure to check with your local building inspector prior to getting serious about any mother in law suite designs.
In particular, find out about any property set backs, easements, zoning laws, and covenants that may preclude the building of a mother in law room addition. Also, if you have a private septic system find out if you will need to change or increase the size of it when building a mother in law suite. Most likely you will need to.
Hire an Architect for the Mother In Law Suite Design
Once you get the green light from the local building inspector on adding a mother in law suite to your home hire an architect. They'll know best what features you should include in your mother in law room addition and how to ensure it will meet all local and state building codes. They'll also know how to best integrate it into the existing home and property in the most aesthetic and appealing way.
An architect will cost anywhere from 5% to 15% of the overall cost of the construction project, depending upon how many services you employ of them. If you simply want them to draw you up a set of mother in law addition floor plans, expect to pay around 5% of the cost of building the mother in law room addition. If you want them to additionally oversee the entire construction project then their costs will rise to roughly 15% or more for the project. However, the money spent will be well worth it as you'll be more likely to get what you want in the mother in law suite.
Also, make sure to ask your parent(s) what creature comfort features they'd like to see in the mother in law suite design, since of course they'll be living in it.
Building a Mother In Law Room Addition is a Large Construction Project

It is important to realize that building a mother in law room addition suite is equivalent and complex as building a house, if not more. Why? Because the mother in law suite needs to be integrated into the existing home and this requires some serious architectural planning and design, and some demolition on the existing home. 
Also, adding a mother in law suite onto your home involves the inclusion of not just a bedroom, but also a kitchen and bathroom. Whenever these latter two items are included in a home remodeling project, costs quickly skyrocket.
Mother In Law Room Addition – Build Up or Out
Often mother in law room additions are built outwards from an existing home. However, this does not need to always be the case, and in some cases, it may not even be feasible. Building up, doesn't require any addition land footprint and does not require any excavation and foundation work. Thus, building a mother in law room addition upwards can actually be lower cost than building outwards, even though building upwards requires roof demolition and reconstruction.
If you have a large attached garage with a large unfinished space above it, for example, this may be a prime spot for building a mother in law suite.
Similarly, a large and dry basement maybe another option, building down, but a basement can be dark and gloomy. Not such a wonderful place for someone to live out their final years.

Safety Features to Include When Building an Inlaw Suite

When building a mother in law suite, make sure there is easy access into it, either through a ramp if the mother in law room addition is attached to the side of a house, or via an elevator if it is to be located on a second floor.
Also, make sure to include handrails not only in the bathroom shower and on the bathroom walls, but in other areas of the in-law room addition, e.g. on any hallway walls. Moreover, to support wheelchair accessibility make sure door ways and hallways are wide enough to support them.
Building a Mother In Law Room Addition Costs

Again, building a mother in law room addition is expensive since it is actually more complex than building a small house. Thus, expect at a minimum to spend $125 to $150 a square foot, and depending upon where you live, and the features that you choose to include in it, that cost could easily jump to $200 ore more per square foot. Keep in mind, however, that someday the space could become rental property.
To summarize, if one or both of your parents are aging, building a mother in law room addition is a great alternative to sending them to a nursing home or assisted living center.
Not only will they be happier, but you will as well by being able to keep closer tabs on them and sharing more time with them in their sunset years. Moreover, it may give your adult children a better chance to connect with them, and learn from them, something that doesn't happen very much in today's world. Finally, when your parents do pass on, you will have the opportunity to legally rent out the space, or allow and adult child to move back in with you, while still relatively maintaining each other's privacy.
For more help on building a room addition, see HomeAdditionPlus.com's Home Addition Bid Sheets. Our Home Addition Bid Sheets provide you with the knowledge and information on how to plan a home addition project, and what to look for when hiring contractors. They also include detailed cost breakdown tables and spreadsheets for estimating your own new home addition building costs.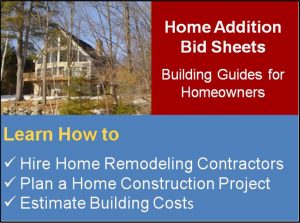 Related Information on Building a Mother InLaw Room Addition Suite
---
Free Home Addition Price Quotes with No Obligation!
Fill out our 3-5 minute quick and easy form, and receive a free price quote on a house addition from one of our prescreened and licensed home addition contractors. This process is free and there is no obligation to continue once you receive your home addition price estimate.