Planning House Extensions Properly is Critical for Controlling Costs and Preventing Project Slips when Building an Extension
By Mark J. Donovan







Building a home extension is an excellent way to provide additional living space for a growing family.

Planning a home extension project, however, requires careful upfront considerations on the purpose of the house extension and the available construction project budget.

For example, is the purpose of the home extension to add a bedroom, a family room, or expand a kitchen.
It is important to understand what is really desired in the home extension, because its purpose significantly impacts the house extension cost. This is particularly true for a kitchen extension, for example. Kitchen extension costs are very high due to the need for cabinets, counter-tops, appliances, and plumbing.
The average cost of a home extension varies today from as low as $70 to over $200 per square foot. When plumbing and/or HVAC systems are required in the home extension building project expect the home extension cost per square foot to be on the high side.





The typical phases in building a house extension project included:

Checking with the municipal building inspector to see what lot line setbacks you need to consider

Generating home extension design plans

Excavation and foundation work

Framing – including window and exterior door installation and roofing

Electric, Plumbing, Insulation, & drywall

Finish Carpentry

Painting

Flooring

Obtaining occupancy permits 

And of course, having inspections all during the home extension build
Develop a Set of Home Extension Building Plans
It is imperative that you develop a detailed set of blue prints that leaves no stone un-turned in the definition of your house extension building project.
When building a home extension it is vital that the plans include everything from the structural design of the home extension, down to the particular light fixtures and cabinet features you want integrated into the home extension. This is the only way to obtain accurate home extension contractor quote estimates.

You may want to consider hiring an architect. An architect can help insure that the home extension is designed properly from both structural and aesthetic viewpoints.
Hiring a Home Extension Building Contractor
When it comes to building a home extension, nothing is more important to the success of the home extension building project than hiring the right building contractor. Make sure to interview several building contractors and check references for each of them.
Choose a building contractor that has a proven and lengthy history of building home extensions.

Also make sure that they are insured and bonded, and that their company has been registered with the state for a number of years.

A seasoned building contractor who has a company that has only been registered for a couple of years is a clear warning sign that something is wrong with his track record.
As part of the contractor interviewing process in building a home extension, make sure to thoroughly review building contractor quotes.Check to make sure all work to be performed is clearly spelled out, including who pulls the home extension building permits.
Also make sure that the home extension costs are itemized so that you can clearly see what you are paying for, and to confirm that nothing is missing from the quote.
---

To help in obtaining accurate and consistent home extension contractor quotes, see my Room Addition Bid Sheet.

The Room Addition Bid Sheet provides a request for quote section that you can provide to prospective building contractors. It also includes a comprehensive home extension cost breakdown table, in Microsoft Excel format, that allows the contractor to include his projected home extension costs for every phase of the project.

---
Securing Home Extension Construction Financing
Building an extension typically involves obtaining financing. With a set of detailed home extension building plans and home extension contractor quotes you should be able to obtain a fairly accurate estimate of your home extension building costs. Add an additional 5-10% to this figure for contingencies and then visit your local banks for obtaining financing. You do not want to be under funded when building a home extension. It is better to be approved for more than you need, rather than come up short and have to go back and ask for more funds later.
Again, building an extension is a major endeavor. However, with up front planning and design you can avoid many of the pitfalls associated with home extension construction projects.
---
For more help on building an extension and for obtaining costs of building an extension, see HomeAdditionPlus.com's Home Addition Bid Sheets. Our Home Addition Bid Sheets provide you with the knowledge and information on how to plan a home building project, and what to look for when hiring contractors. They also include detailed cost breakdown tables and spreadsheets for estimating your own new home construction building costs.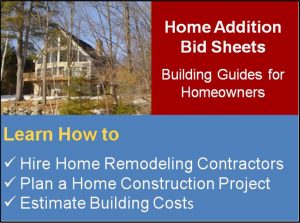 Related Information on Building an Extension and House Extension Planning
---
Free House Extension Price Quotes with No Obligation!
Fill out our 3-5 minute quick and easy form, and receive a free price quote on a house extension from one of our prescreened and licensed home extension contractors. This process is free and there is no obligation to continue once you receive your house extension cost estimate.