Home Addition Costs per Square Foot will Vary with the Type of Room Addition Your Considering
By Mark J. Donovan







Building a room addition onto your home is a great way to gain finished living space, and enhance the beauty and stateliness of your home if done right.

Regardless if you're building a family room, master bedroom suite, bathroom, or adding a second floor, a room addition is often a great economical alternative to moving to another larger home.

However, before jumping into a DIY room addition project, it is important to understand that such an endeavor is a large undertaking and takes careful planning and considerations.
Moreover, it is essential to map out on paper the size of the room addition, where it will tie into your existing home, and the amenities you want to incorporate into it, so that you can come up with an accurate DIY room addition price estimate.
Bedroom Additions and Family Room Additions
Bedroom and family room additions are the most economical to build relative to other types of room additions. Typically these types of room additions do not include plumbing, thus saving on plumbing costs and bathroom/kitchen appliances. For bedroom or family room diy home addition cost estimates, expect to pay anywhere from $80 to $130 per square foot for building a bedroom or family room addition.




Bathroom and Kitchen Additions

Kitchen and bathroom additions are very expensive to add onto your home due to the fact that they require plumbing, cabinetry, countertops, appliances, and in the case of bathrooms, plumbing fixtures.

For bathroom or kitchen addition diy home addition price estimates, expect a cost of anywhere from $100 to $200 per square foot for adding a bathroom or kitchen addition onto your home.
Second Story Additions
Adding a second story addition onto your home is also a very expensive endeavor, in part due to the fact of having to remove the home's existing roof and for having to relocate the family for a period of time.
A second story addition is also a huge diy home construction project, so don't tackle this type of project unless you have prior experience in the home construction industry. For a typical diy room addition price estimate on a second floor addition, expect a cost of anywhere from $100 to $150 per square foot.
Blueprints and BOM Required for Estimating DIY Home Addition Costs
For accurate diy room addition price estimates you'll need a complete set of blueprints and bill of materials (BOM) costed out. You can provide your BOM to various home improvement centers where they can work up formal quotes for you.
Don't forget to ask them for contractor pricing, which can save you typically 10-20% on your material costs. Often on a room addition project they'll give diy homeowners the same discounts they give general contractors.

Taxes and Utilities for New Room Addition

Besides coming up with your diy room addition price estimate for building the room addition, you'll also want to determine your increased monthly operating costs for owning more finished living space.
Both you're property taxes and utility costs will go up due to the increase in finished living space associated with the room addition. Make sure your monthly home operating budget will be able to handle these higher costs before committing to building a room addition.
For more help on building a room addition, see HomeAdditionPlus.com's Home Addition Bid Sheets. Our Home Addition Bid Sheets provide you with the knowledge and information on how to plan a home building project, and what to look for when hiring contractors. They also include detailed cost breakdown tables and spreadsheets for estimating your own new home construction building costs.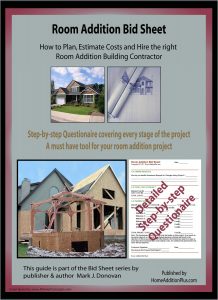 Related Information on DIY Home Addition Cost Estimating 
---
Free Home Addition Price Quotes with No Obligation!
Fill out our 3-5 minute quick and easy form, and receive a free price quote on a house addition from one of our prescreened and licensed home addition contractors. This process is free and there is no obligation to continue once you receive your home addition price estimate.