A Comparison of the Pros and Cons of Attached vs Detached Garages
By Mark J. Donovan







Attached vs Detached Garage Addition

Deciding to build a garage on your property is a big decision. Choosing between an attached garage versus a detached garage can be an even more difficult decision.

Attached garage additions and detached garages each have the own unique pros and cons and the final decision often comes down to individual preferences and circumstances, such as how you anticipate using the garage, and the lot size.
What is the Purpose of the Garage
If your main purpose of the garage is to prevent from having to go out in the cold, rain and snow to get to your car, then an attached garage addition is your best bet.
On the other hand, if the garage's main purpose is to create a work shop, then a detached garage is the better choice.

A detached garage, versus an attached garage, can typically be larger thus making it more amenable for a workshop. In addition, a detached garage also enables you to keep the dust and noise away from the main home.
A detached garage also provides additional safety by isolating the main home from fuels, paints, and other hazardous chemicals and products that may be used or stored in the garage or workshop. Moreover a detached garage used as a workshop prevents smelly paint and fuel fumes from entering the home.
Attached versus Detached Garages and Property Lot Size and Shape

Your property's lot size and shape can play a major factor in helping you to decide between an attached or detached garage.

Attached garages often require extending the home out sideways by 20 to 30 feet. Consequently long narrow lots are more conducive to building detached garages.

On the flip side, however, detached garages can easily consume valuable land on your property. For example, a big backyard may be completely obliterated by plunking a detached garage in the middle of it.
When contemplating between an attached garage versus a detached garage walk your property, and stake and string out the location for both a detached and attached garage.
By using stakes and strings to outline the garage footprints, you can better assess the impact of each garage type on your property. Moreover it can help to determine the appropriate size for your garage, no matter which one you elect to go with.
It's also important to check with your local building inspector and review lot maps before deciding upon what type of garage to go with and where to locate it. There are various residential building codes that can and will impact the size and location of your garage, be it an attached garage addition or a detached garage building.
For example, there are typically setbacks from lot lines for constructing any type of building on your property. In addition, if there are any easements on your property you will need to make sure you meet the prescribed setbacks from them as well.
Attached vs Detached Garage Costs and Garage Addition Building Cost Considerations
Attached versus detached garage costs can differ significantly. Building an attached garage addition can be less expensive to construct than building a detached garage addition.
Attached Garage Addition Costs
With an attached garage addition, the garage is tied into the existing home so there is one less wall to have to construct. This said, much of the cost savings of building an attached garage addition are lost by having to tie in the garage addition into the existing home. For example, the removal and replacement of house siding and the tying in of roof lines can quickly mitigate any cost savings associated with building an attached addition.
Detached Garage Addition Costs

Building a detached garage, on the other hand, is like building a new home. Consequently it's a bigger construction project.

A detached garage is a standalone structure that will require at least electricity coming into it, and possibly plumbing and gas lines. 
A detached garage addition needs a foundation, all four walls, as well as the roof.
Final Considerations on an Attached vs Detached Garage
Regardless of whether you choose to go with an attached garage or a detached garage make sure that you properly insulate it and include plenty of electrical lighting. Also, make sure not to skimp on size. You only get one shot to build your garage and the last thing you want to do is build it too small.
Remember that a garage is often used for storing many more items than just cars. In addition, even if you build an attached garage addition for mainly storing automobiles and yard items, chances are you'll want to use a portion of it for a small workshop. So again don't skimp on size with your garage design plans.
Lastly make sure to incorporate at least one standard utility door in your garage. This way you don't have to necessarily open a garage door just to walk out of your garage. A utility door can save you a fortune in energy bills if you plan to heat your garage during the winter months and anticipate using the garage as a main form of ingress and egress to the home.
---
For more information on building a garage addition see the Garage Addition Bid Sheet from HomeAdditionPlus.com. The Garage Addition Bid Sheet includes an extensive questionnaire (Request for Quote) that a homeowner can provide to prospective general contractors and subcontractors for bidding the garage addition.
In addition, the Garage Addition Bid Sheet also includes estimated costs and time intervals for constructing a garage addition as well as a list of key home material manufacturers. Finally, the Garage Addition Bid sheet includes an extensive set of helpful tips and advice on making sure the garage addition is built properly and on time and budget.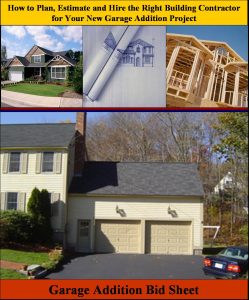 Related Information
---
Free Attached vs Detached Garage Addition Price Quotes with No Obligation!
Fill out our 3-5 minute quick and easy form, and receive a free price quote on a garage addition from one of our prescreened and licensed garage addition contractors. This process is free and there is no obligation to continue once you receive your garage addition price estimate.