Key Garage Design Considerations when Developing Garage Plans
By Mark J. Donovan







Coming up with a good set of garage plans and design is not always easy to do, particularly when your garage plans involve an attached garage addition.

This said, choosing to build a garage addition is one of the best investments you can make.

Besides providing a sheltered space for storing your automobiles, a garage addition offers so much more in functionality, storage and with the right garage plans, living space. In addition a garage addition provides a high return on investment.
Garage Plans and Design Size
When developing your garage design plans first and foremost make sure to make it large enough. Garages inevitably wind up storing much more than simply the families automobiles.
They also end up storing lawn and garden equipment and tools, bicycles and work benches. In addition, you'll need sufficient room to walk around comfortably in it and be able to open automobile doors without dinging them.
For the best garage design, I suggest a footprint of at least 24'x24'. Any smaller dimensions and the garage is simply too tight and shallow.
Garage Utility Doors

Another important garage design idea is to include a standard utility door to enter and exit the garage.

Including a utility door is particularly helpful in winter to keep from having to open the garage doors when needing to simply step outside. By not having to open garage doors during the winter months for merely walking out of the garage, any warmth that is in the garage can be maintained.

Garage Insulation and Drywall

Also make sure your garage plans and design include insulating and drywalling the garage. 
If it is an attached garage addition you are required by code to apply fire proof drywall on the side of the garage that is adjacent to the main portion of the home anyways.
In addition, if there is to be finished living space above the garage you'll need to install fire proof drywall on the garage ceiling as well. The cost of installing insulation and drywall is relatively inexpensive compared to the entire cost of the project, and the improved comfort and energy savings that can be realized are well worth the money. In addition, a finished garage helps increase the return on investment when you eventually sell the home.
Garage Heat

In addition, if you have plans of working in the garage on a regular basis you may want to consider adding heat to the garage, particularly if you live in a colder climate.

Again, this is another reason for wanting to insulate and sheetrock the garage interior. Though my garage addition that I built years ago is not heated, it is insulated and sheetrocked.

 
During the dead of winter I frequently observe that the temperature inside the garage is 30o (F) warmer than the outside air temperature.
Garage Door Types
If building a two car garage addition, make sure your garage plans include individual garage doors versus one large one.
The large single wide garage door is heavy and awkward to handle. In addition, parking two cars in a garage with a single wide door can be difficult.
Garage Lighting

Also consider sufficient natural and electrical lighting in the garage. I've seen many garage plans and designs that had little to no windows and limited overhead lighting.

Make sure to include copious amounts of both. From personal experience, trying to work on a car on a winter evening with limited overhead lighting is a real pain.

Likewise, during the summer it's nice to keep the garage cooler without having to keep the garage doors open and letting in all of the critters.
Other Garage Plan and Design Ideas
Other smaller garage design considerations to include in your garage plans include the installation of garage storage and shelving systems, garage floor mats, and of course garage door openers.
All of these items will help to make your garage addition more functional, clean and organized.
So when designing your garage plans make sure to give careful consideration to all of these items. You'll only build your garage addition once, so it is better to do it right and thank yourself later, than to be constantly kicking yourself down the road every time you ding a car door or are freezing in your garage.
---
For more information on building a garage addition see the Garage Addition Bid Sheet from HomeAdditionPlus.com. The Garage Addition Bid Sheet includes an extensive questionnaire (Request for Quote) that a homeowner can provide to prospective general contractors and subcontractors for bidding the garage addition. In addition, the Garage Addition Bid Sheet also includes estimated costs and time intervals for constructing a garage addition as well as a list of key home material manufacturers. Finally, the Garage Addition Bid sheet includes an extensive set of helpful tips and advice on making sure the garage addition is built properly and on time and budget.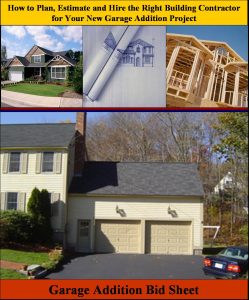 Related Information
---
Free Garage Addition Price Quotes with No Obligation!
Fill out our 3-5 minute quick and easy form, and receive a free price quote on a garage addition from one of our prescreened and licensed garage addition contractors. This process is free and there is no obligation to continue once you receive your garage addition price estimate.