National and Local Building Codes are Meant to Protect Life, Limb, Property and Environment
By Mark J. Donovan







Residential building codes are meant for your safety. National and local building codes are a set of minimum design and construction rules meant to ensure a home is safe to occupy.

Residential building codes are specifically designed to protect the occupants of the home from structural collapse, fire, and other safety concerns.

They are also meant to protect property and the environment from contamination and pollutants.
Often local or state governments will modify, or use a portion of, national building codes to establish their own set of local residential building codes. Consequently it is important to make sure your home is built to both national and local building code requirements.
Residential building codes often change, and thus again why it is so important to always check with local and national building code rules prior to starting a new construction project.




What was "legal" last year may not be this year. By checking with your local building code enforcement officer you can find out what residential building codes or standards the community is presently following, and what permitting is required.

They will also be able to educate you on tangential building concerns including, state, zoning, wetland, flood, and septic design issues. 
It's also advisable to check with your county and state for residential building code requirements and enforcement, as well as to understand contractor licensing and permit pulling processes.
For example, your state may require forms to be completed by you on energy efficiency aspects of your new home construction. They also typically require state applications for private septic system installations.
Residential building codes are not necessarily written to require you to use specific building materials and methods. As long as you can prove the end objectives of a particular residential building code are met with the specific building materials and methods that you plan to use or implement, local building inspectors will typically accept them.
Many states have adopted the residential building standards specified by the International Code Council (ICC) for their residential building codes.

Some states, however, have generated their own set of local building codes, much of which are derived from the ICC standards. See www.iccsafe.org to learn more about the ICC organization.
As part of any new home construction project, permitting and inspections are mandatory. Make sure after pulling construction permits that you schedule regular inspections as communicated by your local building inspector.
The building inspector will inspect your home during various stages of its construction for residential building code compliance. The building inspector, however, will not necessarily inspect your home construction to confirm it complies with the specifics of your blueprints. The architect, general contractor, or you are responsible for this.
---

To help in obtaining accurate and consistent home extension contractor quotes, see my Room Addition Bid Sheet. The Room Addition Bid Sheet provides a request for quote section that you can provide to prospective building contractors. It also includes a comprehensive room addition cost breakdown table, in Microsoft Excel format, that allows the contractor to include his projected home extension costs for every phase of the project.

---
One final word of warning: Never start a new construction project without checking with the local building inspector first and pulling the necessary permits. Many cases have occurred where a homeowner started a new home construction project without pulling the necessary permits, and then later having to tear it down per order of the municipality.
---
For more help on building a home addition, see HomeAdditionPlus.com's Home Addition Bid Sheets. Our Home Addition Bid Sheets provide you with the knowledge and information on how to plan a home building project, and what to look for when hiring contractors. They also include detailed cost breakdown tables and spreadsheets for estimating your own new home construction building costs.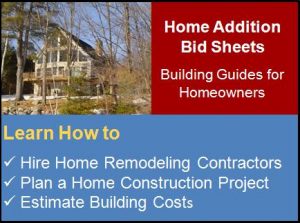 Related Information on Residential Building Codes and Home Additions
---
Free Home Addition Price Quotes with No Obligation!
Fill out our 3-5 minute quick and easy form, and receive a free price quote on a house addition from one of our prescreened and licensed home addition contractors. This process is free and there is no obligation to continue once you receive your house addition price estimate.