Stepping Foundation Walls Provides Cost and Aesthetic Benefits
By Mark J. Donovan







A stepped foundation wall simply means that the foundation wall does not maintain the same height for the entire length of it. Stepped foundation walls are commonly constructed on building lots that have gentle sloped finished grades.

Stepping foundation walls is a common practice in the building industry. It is done for several reasons.

First, it is aesthetically more appealing to have a foundation wall that roughly follows the finished grade of the surrounding soil.
Having a foundation wall that effectively rises out of the ground from say 10" on one side of the home to 48" on the other side can be unsightly, particularly if there is no nice way to mask off the foundation exposure.
A stepped foundation wall also offers cost savings. Concrete is expensive compared to the cost of lumber. Installing a

framed cripple wall

, in place of an exposed foundation wall, is much more cost effective.

In addition, unlike a concrete foundation wall a cripple wall offers much more flexibility in terms of installing basement windows, and punching through various utility conduit pipes to the outside of the home.

Example of a Stepped Foundation Wall
When considering a stepped foundation wall it is important to first talk with your local building inspector to understand the foundation height above grade requirements.
Depending upon where you live the foundation wall will need to protrude above the finished grade soil by a specified amount.

This is necessary to protect the lower extremities of the home, such as the wood sill plate, from water and insect damage.

In addition, stepping foundation walls requires some engineering and planning. Foundation walls should not be stepped too close to corners or jogs in foundation walls.

Get one of these home remodeling checklists and save time and money on your home construction project.
Both vertical and horizontal rebar should also be used when installing a foundation, and particularly around stepped foundation wall areas.
---
For more help on building a home addition, see HomeAdditionPlus.com's Home Addition Bid Sheets. Our Home Addition Bid Sheets provide you with the knowledge and information on how to plan a home building project, and what to look for when hiring contractors. They also include detailed cost breakdown tables and spreadsheets for estimating your own new home construction building costs.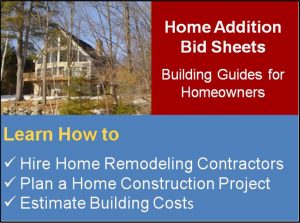 Related Information on Concrete Foundations and Stepped Foundation Walls 
---
Free Home Addition Price Quotes with No Obligation!
Fill out our 3-5 minute quick and easy form, and receive a free price quote on a house addition from one of our prescreened and licensed home addition contractors. This process is free and there is no obligation to continue once you receive your house addition price estimate.