Cripple Wall Framing is Commonly Used to Save Construction Costs and Improve Exterior Home Aesthetics
By Mark J. Donovan







First – What are Cripple Walls?

Cripple walls are usually found between the top of a foundation wall and the first floor of a home.

Cripple walls are frequently used when foundation walls are stepped down to maintain continuity with the soil grade around the foundation.

Cripple walls are typically constructed out of 2×4 or 2×6 wall studs, and sheathed on the outside with exterior grade plywood or Oriented Strand board (OSB).
What are Cripple Wall Advantages
Cripple walls offers several advantages over full height foundation walls. First, cripple wall framing costs less to construct than full height concrete foundation walls.
For example, using a $70 per cubic yard figure for concrete, it would cost approximately $5 per linear foot for a 3 foot high 10" thick foundation wall.
Alternatively a 3 foot high framed cripple wall would cost approximately $2.5 per linear foot in lumber and material.

Second, cripple wall construction offers more flexibility in installing windows, and for running utility conduit pipes and plumbing lines out of the home.

Cripple wall construction also enables better exterior home aesthetics as the house siding can be brought down closer to the finished soil grade.

Here is an example of cripple wall framing in a basement.
What are Cripple Wall Framing Problems
Cripple walls, however, do have their problems. First, they are the weak links in earthquake prone areas. Consequently there are strict regulations on the maximum height of cripple walls, and how they are physically constructed and attached to concrete foundation sills. It is imperative that they are properly braced to prevent them from shifting and collapsing during seismic events.
Typically methods for bracing cripple walls includes: anchoring the cripple wall sill plates to the foundation walls with bolts or other methods, adding horizontal blocking at the top and bottom of the cripple wall, and adding plywood sheathing to the interior walls.

Cripple walls also cannot be installed too close to the finished grade soil, otherwise they are prone to being conduits for water and insect damage to the home.

As a result, there are strict building codes on minimum foundations wall heights relative to surrounding finished soil grades.
So before deciding upon using cripple walls in your home construction project it is best to first talk to your local building inspector to understand the local building codes, as they relate specifically to cripple wall construction.
---
For more help on building a home addition, see HomeAdditionPlus.com's Home Addition Bid Sheets. Our Home Addition Bid Sheets provide you with the knowledge and information on how to plan a home building project, and what to look for when hiring contractors. They also include detailed cost breakdown tables and spreadsheets for estimating your own new home construction building costs.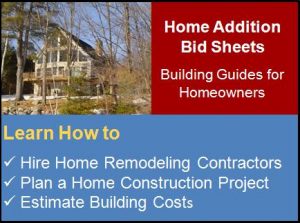 Related Information on Cripple Wall Framing
---
Additional Framing Resources from Amazon.com
---
Free Home Addition Price Quotes with No Obligation!
Fill out our 3-5 minute quick and easy form, and receive a free price quote on a house addition from one of our prescreened and licensed home addition contractors. This process is free and there is no obligation to continue once you receive your home addition price estimate.