Leveling Floors in an Old House Can be a Tricky and Expensive Endeavor
By Mark J. Donovan







One common problem with old homes is that their floors are often unlevel. Unlevel floors are typically the result of a home's foundation settling and/or sill rot caused by water or insect damage.

There are a number of ways to level the floor of an old house, depending upon how severe the floor settling is, and what the source of the problem is.

If the house floor is un-level as a result of wood sill rot caused by water or insect damage, or the floor beams are damaged in anyway, then they need to be replaced.
To replace wood sill or beams the house needs to be temporarily jacked up off of its foundation. Once the house is jacked up the old sills and/or beams can be removed and replaced with new ones.
If the floor joists are sagging they too can cause floors to be unlevel. By sistering new floor joists to the existing ones the floor can be stiffened up to prevent any additional sagging, and in some cases eliminate minor floor deflections.
If the concrete or stone foundation has settled and/or crumbled then again the house needs to be temporarily jacked up so that the foundation can be repaired. Often in the process of repairing a concrete or stone foundation the wood sill beams are replaced as well.

If the wood sills and foundation are in good shape and the house is only suffering minor floor unevenness, then the house can be leveled with shims, again with the help of temporary jacks, to level the floors.
Leveling Floors in an Old House that is Sitting on a Concrete Slab
If the home is sitting on a concrete slab and there are uneven floors, the only way to level the house floor is to add more material to the lower areas of the floor.
If the floor is only slightly unlevel, e.g. less than a 1/4 inch slope over a 10 to 20 feet span, then a self leveling compound can be used to level the floor of the house.
If on the other hand the slab is significantly unlevel, a wood subfloor made out of a network of 2×4 pressure treated sleepers and plywood should be installed.

At the low areas on the floor the 2×4 sleepers should be shimmed so that they are even with the highest point on the floor to create a level structure.

Once the grid of 2×4 sleepers have been assembled on the floor, ¾ inch tongue and groove plywood can be fastened to them to complete the subfloor assembly. Insulation is often inserted in between the network of sleepers to create warmer floors.

Use this wood floor checklist to save time and money on your wood floor installation project.
---
For help on finding a wood flooring installation contractor, see HomeAdditionPlus.com's Wood Flooring Installation Bid Sheet. It will help ensure that you find and hire the right flooring installation contractor for your wood flooring project. In addition, it will help to ensure that your wood floor installation is completed on time and on budget.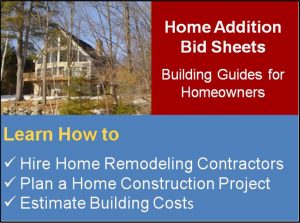 Related Information on Home Flooring and Leveling Floors in Old Houses
---
Additional Flooring Resources from Amazon.com
---
Free Home Addition Price Quotes with No Obligation!
Fill out our 3-5 minute quick and easy form, and receive a free price quote on a house addition from one of our prescreened and licensed home addition contractors. This process is free and there is no obligation to continue once you receive your house addition price estimate.