How to Remove Floor Bounce by Sistering Floor Joists
By Mark J. Donovan







Sistering floor joists entails fastening additional lumber material to the side of the floor joists.

Sistering floor joists is done to strengthen the floor joist and to reduce flexing and deflection in the floor.

Older homes that have floors that are springy or shake when you walk on them were frequently built with undersized and inadequate floor joists.
Sistering floor joists may also be necessary, if a heavy new load is expected, e.g. the installation of a Jacuzzi tub or a grand piano.
Sistering floor joists can be done in a number of ways. One way is to simply nail or screw the same type and size of lumber to the existing floor joist. Alternatively a smaller piece of lumber can be attached to the existing floor joist.
Also, additional lumber material can be fastened to both sides of the existing floor joist. Plywood, for example, can be attached to either side of the floor joist effectively sandwiching the original floor joist. Normally, however, standard framing lumber is used, such as 2×10's or 2×12's or whatever the original floor joist material is constructed out of. In some cases steel or engineered lumber is used.
Sistering floor joists is not always possible, or at least it is not very often simple to do.

Due to existing and completed lower level ceilings, walls, blocking, plumbing pipes and electrical wires sistering floor joists may not be possible or just very expensive to do.

One way around all of these obstructions is to simply sister in smaller lengths of floor joist material. 
Though sistering in small sections of additional floor joist material may not be the strongest solution, it does however provide reasonable additional strength, particularly if the joints are strategically placed.
When sistering floor joists with smaller lengths of additional material always avoid joints towards the middle of the span.

It is better to leave the sistered floor joist materials short of the ends of the original floor joists than to splice or join sections of them near the center of the span.

Joining sections of floor joist sistering material near center spans significantly reduces the benefits of the entire floor joist sistering process.
When sistering floor joists associated with a slightly sagging floor, it is best to first brace the existing floor up just a slight by using a combination of bracing lumber, posts and hydraulic jacks.
Once the floor deflection has been eliminated, you can then sister the floor joists.
After sistering the floor joists you can then remove the temporary bracing, and with any luck the sagging will have been eliminated.
---
For more help on building a home addition, see HomeAdditionPlus.com's Home Addition Bid Sheets. Our Home Addition Bid Sheets provide you with the knowledge and information on how to plan a home building project, and what to look for when hiring contractors. They also include detailed cost breakdown tables and spreadsheets for estimating your own new home construction building costs.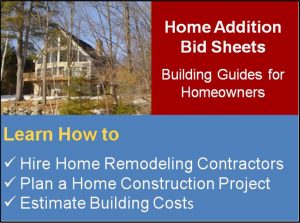 Related Information
---
Additional Framing Resources from Amazon.com
---
Free Home Addition Price Quotes with No Obligation!
Fill out our 3-5 minute quick and easy form, and receive a free price quote on a house addition from one of our prescreened and licensed home addition contractors. This process is free and there is no obligation to continue once you receive your home addition price estimate.