Sill Rot is a Common Problem with Older Homes and Homes Built too Close to the Ground
By Mark J. Donovan







Question: Mark, I have an 8 foot section of sill beam in the front of my farm house that needs replacement. Evidently it has rotted out from years of splash back from the front granite stoop when rain water runs down from the single dormer above. Someone told me it's a simple repair and that the beam could be sprayed in place to effectively re-constitute it. How and who does one find details on this procedure, if it even exists.

Answer: P.P., I'm Sorry to hear about the rotting sill beam near your front stoop. 
Sill rot is a common problem with older homes and homes with sill plates that sit close to the ground.
Typically the sill rot occurs from the outside and works its way inwards. Roof runoff water splashes up off the ground, or in your case the front stoop, and works its way behind the house siding. If left unchecked, the home can settle dramatically over time which can lead to pitched or sagging floors and even structurally dangerous conditions.
Depending upon the level of sill rot and damage the costs to repair the sill beam can be quite expensive. Though there are some additive epoxy products on the market that you can use to strengthen wood, such as in the case of window sill repair, I am unaware of any type of epoxy system that can restore the level of strength necessary in a major structural component such as a sill beam.

Yes there are penetrating epoxy sealers from Smith & Company, among others, on the market. 
However these products are meant more for preventing further rot rather than restoring the strength and integrity of a sill beam.
With older homes sill beams rest on the home's foundation. Sill beams typically are quite large as they have to support and distribute the weight of the entire home. To repair a damaged sill beam correctly the home, or at least a portion of it, needs to be temporarily jacked up to expose the beam(s) and level the house frame. Once level, the section of old rotted sill beam can be replaced. Often, the foundation wall needs to be repaired in the process, particularly if it is constructed out of stone.
Jacking and lifting up the house is a cross between art and physics so it is wise to get a

contractor

experienced in this type of project. If done incorrectly, your home could end up with cracks in the plaster walls and ceilings. In addition, the interior framing could twist or buckle. The trick is to raise the low areas of the sill beams to a pre-determined benchmark so that the home is in equilibrium and the frame structure is not stressed.

To determine the best course of action in your case you need to call in an old home restoration expert or an architect to inspect the state of your sill beams. They can then make the best recommendation for your particular situation.

Use this room addition checklist and save time and money on your home remodeling job.
Unfortunately the cost of repairs will likely not be cheap. However, not addressing the issue could put you and your home at further risk, and lead to higher sill repair costs down the road.
Once the structural repairs have been made to the sill beam it is also important to address the issues that caused the sill rot in the first place. The installation of roof gutters, ice and water shield, moisture barriers, and flashing around the sill plates can help to eliminate splash back water from finding its way underneath your house siding. The soil grade around the home's foundation can also be modified. Some of the soil can be removed and re-graded so that more of the foundation wall is exposed and roof run-off water is more quickly shed from around the foundation.
---
For more help on building a home addition, see HomeAdditionPlus.com's Home Addition Bid Sheets. Our Home Addition Bid Sheets provide you with the knowledge and information on how to plan a home building project, and what to look for when hiring contractors. They also include detailed cost breakdown tables and spreadsheets for estimating your own new home construction building costs.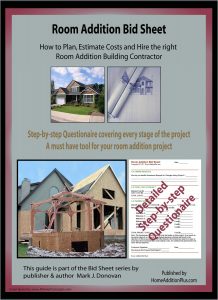 Related Information
---
Additional Framing Resources from Amazon.com
---
Free Home Addition Price Quotes with No Obligation!
Fill out our 3-5 minute quick and easy form, and receive a free price quote on a house addition from one of our prescreened and licensed home addition contractors. This process is free and there is no obligation to continue once you receive your home addition price estimate.