Step by step Video instructions on Taping and Mudding Drywall
By Mark J. Donovan







In this video Mark Donovan, of HomeAdditionPlus.com steps you through the process of taping and mudding drywall.

Taping and Mudding drywall or sheetrock can be performed by a do it yourself homeowner, however it takes a little knowledge and some artistry.

Taping and Mudding drywall is a three step process. It starts with applying drywall tape, by seating it in a bed of joint compound, or drywal mud.
At least two applications of joint compound (mud) are then applied over the drywall tape.
In between coats of joint compound, sanding is performed. Unless your a professional drywall. 
Most professional drywallers simply knock off the high spots of joint compound mud after it has dried and then apply the next layer of mud. Only after the final drywall mud application do they sand the dried joint compound/drywall mud.
When done right, after a coat of primer and paint, your finished walls should look perfectly smooth.
---
For information on repairing a large drywall hole, see the "How to Repair a Large Drywall Hole" Ebook from HomeAdditionPlus.com.  The "How to Repair a Large Drywall Hole" Ebook provides step-by-step instructions on how to repair your damaged wall so that it looks as good as new.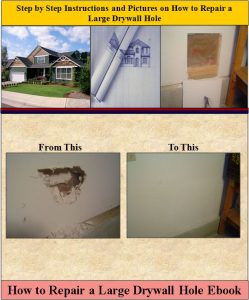 Related Information on Tapping and Mudding Drywall
---
Additional Drywall Installation Resources from Amazon.com
---
Free Home Addition Price Quotes with No Obligation!
Fill out our 3-5 minute quick and easy form, and receive a free price quote on a house addition from one of our prescreened and licensed home addition contractors. This process is free and there is no obligation to continue once you receive your house addition price estimate.