Skip Trowel Textured Ceilings using the Knock Down Method
By Mark J. Donovan







After drywalling a room or home one of the very next things that should be done is to finish the ceilings.

When it comes to finishing a ceiling there are a number of options that you can choose from. The simplest one is to simply prime and paint the ceiling with a flat paint. It's easy to do and costs very little.

The second option, and probably the least favorite choice with today's homeowners, is to apply a popcorn textured ceiling.
You can typically have a drywall contractor spray it on after they finish the drywall project or you can do it yourself using a paint roller. I recommend, however, using the drywall contractor when going with a popcorn ceiling.
They can do the job quickly and it will look more professionally applied. These two methods of finishing a ceiling, however, have been fading in popularity over the years.

Skip Trowel Ceilings

Many homeowners today are requesting drywall contractors use a skip trowel finish and knock down method to finish their ceilings. A skip troweled finished ceiling is a middle ground solution between a flat painted ceiling and a popcorn ceiling.

Watch how to Tape & Mud Drywall in this video.
Besides achieving a textured look, the skip trowel / knock down ceiling can easily be painted, which is one of the main negatives of a popcorn ceiling.
For drywall contractors the skip trowel/knock down method is easy to do, and even DIY homeowners can tackle smaller ceiling surface areas.
How to Skip Trowel Finish Ceilings

Skip troweling a ceiling basically involves applying a slightly watered down application of joint compound, or mud, to the ceiling and then running a wide drywall taping knife, or trowel, over it to knock down the mud. The result is a flat textured ceiling surface with a slightly mottled look.

You may ask, what is being knocked down, with the taping knife or trowel? 
After applying the watered down joint compound it begins to drip down off the ceiling to form in effect stalactites, or icicles.
It is these stalactites that are knocked down with the trowel. When they are knocked down they form raised surfaces patches, which result in the textured ceiling finish.
Work Fast and in Small Areas when Skip Trowel Finishing
I should caution, however, that when skip troweling a ceiling DIY homeowners need to move quickly and work in small areas at a time.
Otherwise the joint compound will harden up before you have time to go back over it and knock it down with the drywall taping knife. Drywall contractors typically spray on the soupy joint compound mixture onto the ceiling and then run behind it with their taping knife, or trowel, to knock it down.
For the DIY homeowner, they most commonly apply the soupy joint compound with a trowel or large drywall taping knife to a limited surface area, and then go back and hit it with the trowel.
If you decided to skip trowel a ceiling yourself, keep in mind that it is a very messy job. There is spillage and dripping from the ceiling as you apply the soupy joint compound and then knock it down.

Consequently you will want to cover the floor with plastic before you do it, and you should wear eye protection and a hat. Guaranteed you'll end up with droppings on your head and face skip troweling a ceiling.
After applying the soupy joint compound to the ceiling give it just a few minutes to set up, so that the stalactites begin to form, before going back over it with your trowel.
Don't Aim for Perfection with a Skip Trowel Stucco Finish
Care should be taken to not repeatedly go over the area more than once after you've knocked it down.
If you want to add some additional character to your skip troweled ceiling you may also want to add fine sand to the soupy joint compound mixture before applying it to the ceiling.

You can also sweep the trowel in a tight circular motion when knocking down the stalactites to create a swirling pattern on the ceiling.

After slip troweling and knocking down the entire ceiling let the joint compound fully dry. Once dry you can paint it using a paint roller.





Adding Paint When Skip Troweling Textured Ceilings
Note that drywall contractors frequently add paint to the soupy joint compound mixture to prevent the need for having to go back and paint the skip troweled textured ceiling afterwards.
---
For information on repairing a large drywall hole, see the "How to Repair a Large Drywall Hole" Ebook from HomeAdditionPlus.com.  The "How to Repair a Large Drywall Hole" Ebook provides step-by-step instructions on how to repair your damaged wall so that it looks as good as new.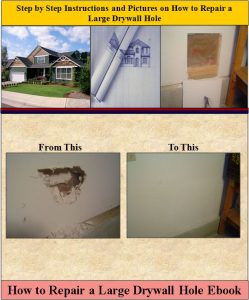 Related Information on Skip Trowel Drywall and Skip

Trowel

 Finished Ceilings
---
Additional Drywall Installation Resources from Amazon.com
---
Free Home Addition Price Quotes with No Obligation!
Fill out our 3-5 minute quick and easy form, and receive a free price quote on a house addition from one of our prescreened and licensed home addition contractors. This process is free and there is no obligation to continue once you receive your house addition price estimate.