Step by step Video instructions on Repairing a Large Drywall Hole
By Mark J. Donovan








In this video Mark Donovan, of HomeAdditionPlus.com steps you through the process of repairing a large drywall hole.

If you live in a home long enough, eventually you will have a situation where a knee, or some other object, goes through a wall in your home.

You can either call in a drywall contractor and spend a small fortune to fix it, or you can do the drywall repair yourself.
This video will teach you how to repair a large drywall hole like the pros. After watching this video you'll have the skills and confidence to make the large drywall repair yourself, and in the process save yourself a tidy sum of money.
---
For information on repairing a large drywall hole, see the "How to Make a Large Drywall Hole Patch" Ebook from HomeAdditionPlus.com.  The "How to Repair a Large Drywall Hole" Ebook provides step-by-step instructions on how to repair your damaged wall so that it looks as good as new.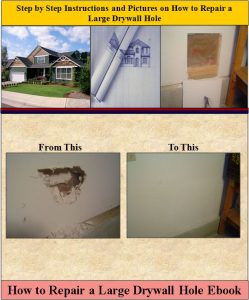 Related Information on Repairing Drywall
---
Additional Drywall Repair and Drywall Installation Resources
---
Free Home Addition Price Quotes with No Obligation!
Fill out our 3-5 minute quick and easy form, and receive a free price quote on a house addition from one of our prescreened and licensed home addition contractors. This process is free and there is no obligation to continue once you receive your house addition price estimate.