Converting a Basement into Finished Living Space is a Financially Smart Decision
By Mark J. Donovan







Are you looking for more living space and buying a larger home, or putting on an exterior home addition are not options? One alternative idea to moving to a larger home could be to convert your underutilized basement over to finished living space.

Converting a basement over to finished living space is a great way to add useful space to your home. The cost per square foot associated with finishing a basement are typically much lower than building an addition onto your home or moving to a new larger home.
In addition, converting a basement into a finished living area allows the do it yourself homeowner to tackle the project on his or her time schedule and budget.
In addition, a basement conversion project is easy to isolate from the rest of the home's finished living space during the construction phase. All you have to do is simply close the door to the basement. And if there is outside access to the basement, even better. Contractors can access the basement from the exterior door.
Deciding to convert a basement over to finished living space enables several new rooms to be created within the home.




New rooms that can be created when doing a basement conversion include bedrooms, recreation rooms, exercise rooms, office space, bars, and even bathrooms and kitchens. 

Considerations for Converting a Basement to Finished Living Space

To determine if your unfinished basement is appropriate for converting over to finished living space,  there are three main items that you need to carefully consider.
You need to check with your your local building inspector to confirm that there is sufficient headroom in the basement to create finished living spaces. Typically you will need at least 7 feet of headroom.

Next, it is important that the basement has easy access, and has a couple of methods of egress, e.g. via a staircase, windows and/or walkout doorways.

Before kicking off converting your basement into finished living space it is important to make sure that the basement is free from moisture problems. You may want to hire a professional to inspect and help deal with any basement water or moisture problems prior to beginning construction. See this article on ways to waterproof your basement.
If you're unfinished basement meets all three criteria then converting your basement to finished living space may be your best and most affordable solution for creating additional comfortable living space within your home.
Specific Tasks Associated with How to Convert a Basement into Finished Living Space
Once you've decided to kick off your basement conversion project, you'll need to frame out the walls, which will include attaching furring strips to the concrete basement wall, and then framing out interior walls. Framing in the basement can be challenging because of plumbing pipes and electrical wires running through the overhead floor joists. Thus, you may want to hire a frame with experience doing this type of framing work. Also see my article on framing basement walls.
After the framing is complete, you'll need to rough in the electrical wiring, and any plumbing. Typically you'll need to install many individual light fixtures, such as can lights or fluorescent lights in the basement ceiling. See article on basement lighting options.
Also, because a basement is subjected to water threats more than upper level floors, GFCI circuit breakers will be required in the basement. Typically several new circuit breakers will need to be added for a basement conversion project.
Once the rough electric and plumbing are done, any insulation you want to add, such near the exterior basement walls, should be installed. Rigid foam insulation is best to use in these areas.
Then the sheet rock can be installed, followed by painting, and finished electric and plumbing. Finally the flooring and trim work can be done, including the installation of interior doors. 
For more help on Basement Additions, see HomeAdditionPlus.com's Basement Remodeling Bid sheet. The Basement Remodeling Bid Sheet will help ensure that your hire the right contractor so that your basement remodeling project is done correctly and you get the project finished on time and budget.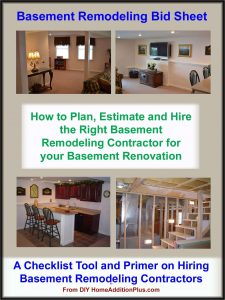 Related Information on How to Convert a Basement into Finished Living Space
---
Get Free Basement Remodeling Price Quotes with No Obligation!
Fill out our 3-5 minute quick and easy form, and receive a free price quote on basement remodeling from one of our prescreened and licensed basement remodeling contractors. This process is free and there is no obligation to continue once you receive your basement remodeling price estimate.