Tips on Planning a Basement Remodeling Project
By Mark J. Donovan







Basement Remodeling is a great way to increase the living area in your home. And unlike adding an addition onto your home, ground/site work and installing a new foundation are not required. Consequently a basement remodeling project can be a much more affordable project to do and provide a much higher return on investment.

However before you decide to tackle a basement remodeling project it is important that you first develop a basement remodeling plan.
Goals of Basement Remodeling Project
Part of a good basement remodeling plan is listing the purposes of the finished basement. For example, will the finished basement be used for a recreation area, or for bedrooms? Is a bathroom or a kitchen area desired? Is a home theater or wine cellar part of the ultimate plan? Understanding how the finished basement will be utilized will help in determining what specific engineering and mechanical needs are required in the actual design and plans for the basement remodeling project.




Making Preliminary Repairs before Basement Remodeling Construction

The second major item that should be addressed before tackling a basement remodeling project is taking care of any problems that exist in the basement.

For example if there are cracks in the foundation walls or floor, they need to be repaired before starting the basement remodeling project. Also, if there are leaking or sweating pipes they should be repaired before remodeling starts.

In addition, if the basement remodeling plans include plumbing that will require demolition of some of the basement floor it is critical to do this before the rest of the basement remodeling project starts.

 
Also you should consider the size and location of the furnace. You need to determine if the existing furnace will be adequate to properly heat the newly remodeled basement area?
If it is not, a larger furnace may be required. You also need to consider the location of the furnace and the noise it generates. If the furnace is going to be located near a finished basement area then you may need to wall off and properly insulate the furnace room from the finished basement area. You may also need to modify the furnace design such that fresh air is pulled in from the outside of the home.
Insulation of the exterior walls should also be considered. During the framing/construction phase, rigid Styrofoam insulation can be installed to help make the remodeled basement area warmer. Consider insulation requirements before starting the basement remodeling project.
Basement Remodeling and Lighting

One of the most important aspects of a basement remodeling project is the lighting. A finished basement that is naturally dark is very uninviting for family members and guests.

To address this problem, your basement remodeling plans should consider adding natural light wherever possible. If the foundation has concrete knee walls, consider framing in windows above the knee walls. If the basement has a walk out area, consider installing glass sliders or French doors.
In addition to adding natural light to the basement, consider installing can lights in the ceiling, and sconces on the walls. They can really brighten up the basement area and make the space into a warm and inviting area.
Basement Remodeling Floor Layout Tips
When developing the floor layout of your basement remodeling project, consider putting bedrooms and recreation areas near the natural light areas, e.g. near the walkout sliders.
If a home theater or wine cellar is part of your basement remodeling goals, locate them in areas of the basement where natural lighting is not required.
If a bathroom or kitchen area is part of your basement remodeling objectives, locate them directly below existing plumbing on the first floor of the home. This will help to minimize the amount of piping that is required in the precious head room area of a basement. It will also help to limit the amount of structural/framing work required.
Again, if there is a furnace area that needs to be contended with in terms of noise, locate the wine cellar, or storage spaces near the furnace. These areas/rooms can help to insulate the rest of the basement rooms from the noise of the furnace.
If there are Lally columns (support posts) that need to be contended with, try to develop a basement remodeling plan that locates walls such that the Lally columns can be buried in them. If burying them is impossible, then consider schemes for boxing them in or finishing them off so that they become less of an obstruction and eye-sore to the finished basement.
Basement Remodeling and Ceilings

When developing a Basement remodeling plan, the ceiling choice is an important decision. Many homeowners choose to install dropped ceiling tiles, while others elect to install drywall ceilings.

Both have their pros and cons. Dropped ceiling tiles allow easy access to pipes and electrical wiring, however they do impact the ceiling height more dramatically than a drywall ceiling.
Drywall ceilings, on the other hand can give a more finished looked and provide more head room, however access to pipes and wiring is limited. If a drywall ceiling is your preference or requirement due to limited ceiling height, plan for access doors underneath first floor bathtub J-traps, valves, and key electrical junction boxes.
Who will perform the Basement Remodeling Construction
Deciding on whether to hire a basement remodeling contractor, or do it yourself is always a big question. Yes, you can save yourself a bundle if you do it yourself. However, frequently many homeowners start a basement remodeling project and never complete it.
If you truly want a finished basement, you need to be honest with yourself on the time commitment and the skills required. If you can not dedicate your next 12-16 weekends to the project, or lack skills in framing and construction, then you should probably hire either a general contractor or act as your own general contractor.
In either case, my Basement Remodeling Bid Sheet can help you. The Basement Remodeling Bid Sheet contains, amongst other things, a comprehensive questionnaire that you provide to prospective basement remodeling general contractors. The prospective general contractor(s) fills out the questionnaire and returns it to you for review.
Additional information is included in the Basement Remodeling Bid Sheet to help you assess the answers from the prospective general contractor(s) to ensure you hire the right person for the job. If you choose not to hire a general contractor, the Basement Remodeling Bid Sheet can also help by providing you with the information you need to develop your own Basement Remodeling cost plans and schedule, as well as provide you with the information necessary for hiring the right sub-contractors.
A Basement Remodeling project is a great way to provide additional living space in your home at a fraction of the cost of building an addition onto your home. With proper planning, a finished basement can become the spot in your home where the family and friends want to spend all of their recreational time. Good luck with your basement remodeling project!
---
For more help on Basement Additions, see HomeAdditionPlus.com's Basement Remodeling Bid sheet. The Basement Remodeling Bid Sheet will help ensure that your hire the right contractor so that your basement remodeling project is done correctly and you get the project finished on time and budget.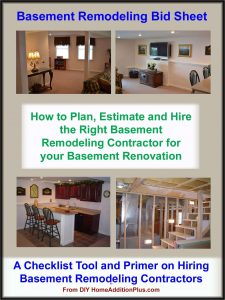 Related Information on Remodeling a Basement
---
Get Free Basement Remodeling Price Quotes with No Obligation!
Fill out our 3-5 minute quick and easy form, and receive a free price quote on basement remodeling from one of our prescreened and licensed basement remodeling contractors. This process is free and there is no obligation to continue once you receive your basement remodeling price estimate.