How to steps for Framing Basement Walls and Stick Building Walls
By Mark J. Donovan







Framing basement walls can be challenging. A basement's concrete slab floor is often not completely level.

Likewise, the first floor floor-joists are also not always perfectly level.

Then there are all the plumbing pipes and electrical wires that run below and between the first floor floor-joists to contend with.

All of these issues create real challenges when framing basement walls.
Consequently stick building basement walls, rather than framing wall sections on the floor and then raising them up and into place, is often done when framing basement walls.
Framing Basement Walls along Concrete Foundation Walls

If you want to ensure a warmer and more comfortable temperature finished basement, then perimeter framed basement walls should be installed along the interior of the basement's concrete foundation walls.

Insulation can then be installed in between the wall stud bays to ensure a warmer finished basement. 
Perimeter framed basement walls should be constructed using 2"x4"s, as is normally done with interior framed walls.
Stick Building Basement Walls
To stick build basement walls fasten a pressured treated 2"x4" sole plate to the floor of the basement using an adhesive and concrete penetrating nails. A powder actuated nail gun helps immensely with speeding up the process of nailing sole plates to the concrete slab. Similarly nail a top plate to the floor joists above and perfectly aligned with the sole plate. A plumb bob can help to ensure the alignment of the sole plate and top plate. If you are not framing a basement wall that runs perpendicular to the floor joists you will first need to nail a few blocks of 2"x4"s in between the floor joist bays to create a nailing surface for the top plate.




After the sole and top plates are nailed into place you can then install vertical 2"x4" wall studs in between them. They should be placed on 16 inch centers from one another, starting from the end of one wall and working your way to the other. Both ends of the framed wall should have 2"x4" vertical studs. Also make sure to measure before cutting each vertical stud member, as the floor to ceiling height will likely vary as you traverse the length of the sole and top plates.

If you don't plan to insulate the exterior foundation walls but still plan on drywalling them, then at a minimum you will need to install vertical furring strips to the perimeter concrete foundation walls.

Use this basement remodeling checklist and save time and money on finishing your basement.
I highly recommend using 2"x4"s, but placed on their flat sides against the concrete foundation walls. Again, they should be fastened to the concrete foundation walls with an adhesive (e.g. Liquid Nails) and concrete nails or Tapcon screws.
Interior Basement Wall Framing
Interior basement walls can be stick built just as the perimeter basement walls. However, you may be able to get away with framing some of the interior wall sections on the concrete floor and then standing them up into place if there are no plumbing pipes or other objects that will need to be framed around.
When framing wall sections on the floor build them about a ¼ inch shorter than the height of the first floor floor-joists so that you can more easily stand them up. If you don't, you may find yourself having difficulty standing them up in place as they may get wedged between the first floor floor-joists and the basement floor.
Also, another reason for framing the basement walls slightly shorter, is if the soil underneath the home has high clay content. If it does the concrete slab can literally move up and down with the amount of rain water absorbed by the clay. If you have clay soil in your region use L-Shaped steel framing clips to fasten to the framed basement walls and the first-floor floor joists.

The L-shaped steel framing clips will allow the framed basement walls to literally move up and down with the concrete slab as the clay soil's moisture content changes.
Once positioned in place you can then shim the framed basement walls to ensure a tight fit before nailing them. However, make sure the walls are level and square before nailing them in place.
Again, you'll want to use an adhesive underneath the sole plates for the interior basement walls, and you will need to fasten them in place with concrete nails or Tapcon screws.
Again, if an interior wall has plumbing pipes, electrical wires or other objects to have contend with then stick building is the better approach for framing the basement wall.
To speed up the process of stick building basement walls I highly suggest using a pneumatic nail gun, such as a the Bostitch F21PL Round Head 1-1/2-Inch to 3-1/2-Inch Framing Nailer with Positive Placement Tip and Magnesium Housing. If you don't feel like spending the money on buying a pneumatic nail gun and compressor look into renting one. Besides speeding up the framing process, it will also help with nailing into tight places that you can't always do well with a hammer, a common issue when framing basement walls,
Boxing in Ductwork

If you have HVAC ductwork in your basement you will need to build soffits around them to create nailing surfaces for hanging the drywall.

Similarly, if you want to include recessed lighting you may also want to frame in soffits. Since soffits are not structural you can build them with 2"x3"s or even 2"x2"s. Soffits are built similarly to a standard wall.
Run parallel top plates along the length of the ductwork, on each side of it, and then attach two end vertical stud members to them. To ensure the soffits are built straight, use a chalk like to help with the placement of the top plates.
The top plates of the soffit attach to the first floor floor-joists and then the vertical members hold up the bottom plate(s).

Then fill in the soffit areas with additional vertical stud members located on 16 inch centers.

Likewise, attach horizontal stud members between the two soffit walls to complete the boxing in of the ductwork.

Also make sure to use a carpenter's square and level when building the soffits to ensure their sides are perfectly square and level.





In addition, make sure to measure each location for the various vertical and horizontal stud members, as they may vary a bit along the entire length of the soffit.
Framing Basement Ceiling
If you plan to drywall the basement ceiling you'll need to fasten perpendicular to the floor joists either 2"x4"s laid on their flat side or 1"x3" furring strips. The use of 2"x4"s provides a little extra clearance for any plumbing supply pipes or electrical wires that could be running up against the bottom edges of the floor joists. The 2"x4"s, or 1"x3" furring strips, should be nailed into place on 16 inch centers, starting from one side of the basement and working your way across to the other.
---
For more help on Basement Additions, see HomeAdditionPlus.com's Basement Remodeling Bid sheet. The Basement Remodeling Bid Sheet will help ensure that your hire the right contractor so that your basement remodeling project is done correctly and you get the project finished on time and budget.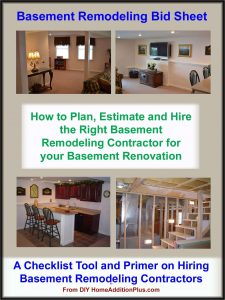 Related Information
---
Get Free Basement Remodeling Price Quotes with No Obligation!
Fill out our 3-5 minute quick and easy form, and receive a free price quote on basement remodeling from one of our prescreened and licensed basement remodeling contractors. This process is free and there is no obligation to continue once you receive your basement remodeling price estimate.