Estimating the Costs of Installing Windows, DIY versus Hiring a Window Installation Contractor
By Mark J. Donovan







Over the years I have personally installed more windows than I care to remember.

However, in recent years when I've needed to replace an existing window or two in my home, I've succumbed to hiring window installation contractors to install them.

I've either been simply too busy to install them myself, or I haven't had an extra pair of hands to help lift them in place. 
Though I shouldn't have been surprised when I received my first window installation cost estimate for the installation of a few simple double hung windows, I was.
Actually I was very shocked for the replacement window costs estimates I received.

However, after receiving a couple of price quotes and letting the sticker shock sink in, I quickly realized that this was the market price.

I also realized that I had saved myself a fortune over the years installing my own windows when needed.

Use this free Window Replacement Cost Estimator tool to calculate your window replacement costs.
To give you some idea of a DIY window installation cost estimate, I summarize below my costs for installing Anderson 400 series double hung windows back in 2006.
Each window itself, including grilles and screen, cost me somewhere around $300 a piece.
The windows were fairly large and had rough opening measurements of 68-7/8" by 31-5/8". In addition, I had to buy 1"x4" pre-primed lumber to replace the exterior window trims, as well as window casing molding for the window interiors.

I also had to buy several feet of Z-strip flashing per window, galvanized nails, shims, and exterior grade window caulk. The total window material costs added up to around $400 per window.
My labor was "free", so the overall window installation costs for outright replacing 10 old windows was round $4,000.
Rolling forward a few years to 2011, I had similar windows installed by a major home improvement center whose name I will not mention.
The total cost for installing effectively 5 same size windows, with window trim included, was just over $8,000. That's right, half the windows installed, compared to my own window installations in 2006, for twice the price. Admittedly the windows had gone up in price to around $500 each, including grilles and screen. However, the rest of the window installation costs were labor and the home improvement center's markup for their "contractor management efforts", with the latter being the bulk of the additional costs.
This said, to be fair to this particular home improvement center, their window installation cost estimate was on par with the competition. So it was market price and I was not going in blind when I signed their contract.

If, on the other hand, I had installed the 5 windows myself, I had estimated my DIY window installation costs would have been somewhere around $650 per window.

The $650 figure included trim and other material needed. Thus, if I had installed the 5 windows myself my total cost would have been $3,250, a savings of $4750, or 60% compared to hiring someone to install the windows for me.
So to summarize, if you have DIY skills and the determination and time you can save yourself a significant amount of money installing your own windows.
If on the other hand you lack the skills and resources to install the windows yourself expect to see window installation cost estimates around 150% higher than the cost of the windows themselves.
To break the window installation cost estimate down even more clearly when hiring a window installation contractor, expect the labor costs for the installation of just the window to be equal to the cost of the window itself. Then on top of it, expect to pay an additional 50% of the window cost for the window trim materials and installation.
If you need more help on choosing the right window replacement for your home, contact one of our pre-screened window installation contractors. They can help you select the replacement windows that are right for your home and budget, and perform the installation.
---
For more information on Installing Replacement Windows and Interior Window Trim
See the

Installing a New Window Ebook

from HomeAdditionPlus.com.  The Installing a New Window Ebook provides easy to understand, step-by-step instructions, on how to remove an old window and install a new one. Pictures are included for every key step in the process.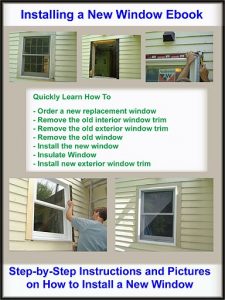 See the

Installing Interior Window Trim Ebook

from HomeAdditionPlus.com.  The Installing Interior Window Trim Ebook provides easy to understand, step-by-step instructions, on how to install interior window trim around a window. Pictures are included for every key step in the process.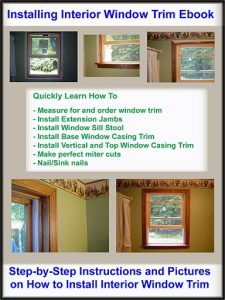 Related Information on Windows and Window Installation Costs
---
Additional Window Installation and Maintenance Resources from Amazon.com
---
Get Free Window Price Quotes, No Obligation!
Fill out our 3-5 minute quick and easy form, and receive a free price quote on windows from one of our prescreened and licensed window contractors. This process is free and there is no obligation to continue once you receive your window replacement price estimate.