Why Caulking Above Window Frames Can Lead To Water Damage
By Mark J. Donovan







Question: Mark, I've written to you on a number of occasions about various home improvement issues and you've always been so helpful with your information and advice. Thank you for that.

However, I'm back with another question on whether or not you should caulk above windows.

My window contractor is telling me that you should not caulk above windows and I have real doubts on his assertion. I would appreciate your thoughts on this subject.
To give you a little background, I recently had several good quality windows installed in my home by a supposedly skilled and reputable contractor.
Unfortunately, he wasn't as reputable as I thought. I've had to have him come back on four different occasions due to his shoddy workmanship. His most recent return was precipitated by the fact that I did a close inspection of the exterior of the home, and in particular above the windows. Much to my chagrin above one window there was a hole that he left about the size of a golf ball. He apologized for the mistake and made the repair.
I also pressed him on why he did not caulk above the windows and asked him to please do so. The

window contractor

refused my request to put caulking above the window frame for what I thought was a poor excuse for laziness. He told me that this is never done in window installations because there has to be a free flow of air to escape. Otherwise the windows would steam over and cause the window frame to expand and ruin the seal. He did, however, put caulking on the sides and underneath the window frame.
However his answer about not caulking above window frames quite concerns me, as I believe it should be there to keep out the elements, i.e., rain, snow, moisture, rodents, bugs, etc.
Again Mark, I would appreciate any advice you might have on this subject because I have a feeling this contractor is simply pulling the wool over me. Thanks in advance for your response.
Answer: N.N. First, it is at least nice to hear that the window contractor returned to the jobsite per your request, on multiple occasions, and did address the issues that you pointed out. Many a bad contractor would've simply ignored your phone calls. I also give him credit for doing what he thought was right for addressing and fixing your window installation concerns.
In regards to your specific question, I am a little perplexed on his explanation on why you should not caulk above windows. I do think that he is indeed correct in his general assertion. Caulking above windows is not a good idea, however I disagree with his reasons.

The main reason you do not want to caulk above the window frame is that water can potentially get trapped behind the caulk and window frame. 
From there it can wick upwards and to the sides of the window frame where it can damage the exterior house siding or exterior wall sheathing. The damage could be in the form of rot, or mold and mildew growth.
When windows are installed there is a metal drip edge typically installed above the window frame and underneath the abutting house siding. Also, with some windows there is an integrated sealed drip edge above the window frame. The drip edge is designed to prevent water from getting behind the window. As water sheds down the exterior house siding and hits the top of the window, the drip edge prevents the water from wicking underneath the window and behind the siding.
Consequently there is no need to install caulking between the top of the window frame and the bottom edge of the abutting siding and metal drip edge.
One might argue that if you do a good job window caulking, that water should not be able to get up behind the window frame and underneath the siding. A fair response, however, not every window caulk job is perfect and sometimes it is installed on too cold of a day. Also caulk inevitably dries out, shrinks, and cracks no matter what the caulk manufacturer tells you. In particular, if window caulk is installed on too cold of a day, when the temperatures eventually warm up the caulk can separate from the window frame.
So, yes your window contractor is right. You should not caulk above windows. His reasoning, on the other hand, is questionable. Finally, window caulk should be applied to the sides and bottom of the window frame, which he fortunately did do.
If you need more help on choosing the right window replacement for your home, contact one of our pre-screened window installation contractors. They can help you select the replacement windows that are right for your home and budget, and perform the installation.
---
For more information on Installing Replacement Windows and Interior Window Trim
See the

Installing a New Window Ebook

from HomeAdditionPlus.com.  The Installing a New Window Ebook provides easy to understand, step-by-step instructions, on how to remove an old window and install a new one. Pictures are included for every key step in the process.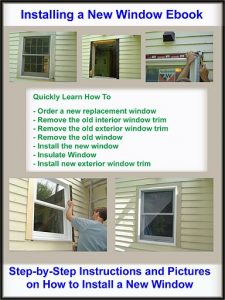 See the

Installing Interior Window Trim Ebook

from HomeAdditionPlus.com.  The Installing Interior Window Trim Ebook provides easy to understand, step-by-step instructions, on how to install interior window trim around a window. Pictures are included for every key step in the process.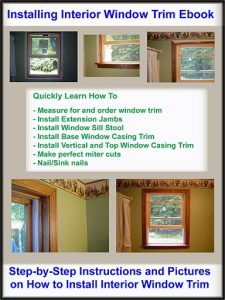 Related Information on How to Caulk Windows
---
Additional Window Installation and Maintenance Resources from

Amazon
---
Get Free Window Price Quotes, No Obligation!
Fill out our 3-5 minute quick and easy form, and receive a free price quote on windows from one of our prescreened and licensed window contractors. This process is free and there is no obligation to continue once you receive your window replacement price estimate.