Key Methods for Cold Weather Roofing of Asphalt Shingles
By Mark J. Donovan







Regardless of what time of the year it is, including cold weather season, if your roof becomes damaged or begins to leak it needs to be repaired promptly.

Cold weather roofing offers its unique challenges and requires modified standard roofing procedures to ensure the roof repair or installation is done properly and safely.

Though the outside air temperate may be below freezing and the winds are howling, if roof shingles are blown off the roof, or a tree has fallen on it, it's imperative that the roof repairs happen quickly in order to protect the home.
Unless you're a skilled roofing contractor, when it comes to cold weather roofing you should leave it to the pros.
Cold weather creates a number of additional roofing safety hazards. In addition, the roofing materials themselves require special care. Asphalt roofing shingles for example are extremely brittle and roofing tar is like cement in very cold weather.
When making a cold weather roofing repair it is vital from both a safety and an installation stand point that all snow and ice be first removed from the work area. Also, if it is at all possible store the roofing materials in a warm and/or sheltered place, such as a garage or shed, until you actually need them. You'll also need roofing tar or cement when doing cold weather roofing. Make sure to keep it in a warm space until you actually need to use it.
Asphalt shingles are installed in courses, with each upper course overlapping the course below it. In addition to nailing the shingles in place, there's also a pre coated layer of heat activated adhesive on each shingle.
This adhesive works in conjunction with the nails to hold the shingle in place, and more importantly hold the bottom half of the upper shingle to the top surface of the lower shingle. When the air temperature is too cold the adhesive is unable to work properly, and prevents the adhesion of the adjacent shingle courses. As a result, when the winter winds begin to blow the shingles can easily be lifted up and ripped off the roof. Missing shingles will quickly lead to roof leaks.
Heat Activated Adhesive

Due to the fact that the sun is so low on the horizon and cannot produce any significant heat to activate the adhesive on the shingles, another method is required to securely fasten the shingles down in cold weather roofing.

A small dab of warm roofing tar or cement must be installed on the bottom half, back side, of each shingle prior to nailing it in place.

In addition, roofing nails should be installed per the asphalt shingle manufacturer's recommendations to ensure that the shingle will stay securely fastened to the roof even under the worst of wind conditions.
By following these two simple cold weather roofing tips, the shingles will stay properly fastened to the roof. When the temperatures eventually warm up and the sun produces more heat the adhesive on the shingles will also begin to do their job and provide additional adhesion to the shingles.
Also note that the same type of asphalt roofing shingles should be used when making roof repairs in order to ensure proper adhesion between the two shingle types.
Asphalt roofing shingles come in two basic construction types, fiberglass and organic based.

Fiberglass asphalt based shingles are compliant to ASTM D-3462 standards, and organic based shingles are compliant to ASTM D-225.

Each has their unique construction properties including the adhesion used. Consequently it is important to use the same type of asphalt roofing shingles between courses in order to ensure proper installation and adhesion between the shingles.





When interviewing prospective roofing contractors for a cold weather roofing project make sure to ask them how they plan to go about making the roof repair and/or installing the new roof. If their response is not similar to the instructions I've outlined above, find another roofing contractor.
---
For more help on Shingling Your Home's Roof, see HomeAdditionPlus.com's Asphalt Shingle Roofing Bid Sheet. The Asphalt Shingle Roofing Bid Sheet will help to ensure that your roof won't end up with a blue tarp over it and a dumpster sitting in your yard for weeks as you wait for the roofing contractor to come back and finish roofing your home.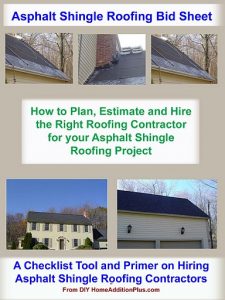 Asphalt Shingle Roofing Cost Estimator
---
Related Roofing Information
---
Additional Roofing Resources from Amazon.com
---
Roofing Price Quotes For FREE, No Obligation!
Fill out our 3-5 minute quick and easy form, and receive a free price quote on roofing from one of our prescreened and licensed roofing contractors. This process is free and there is no obligation to continue once you receive your roofing price estimate.