Tips on Staining Wood including How to Stain Hardwoods and Softwoods
By Mark J. Donovan


In this video Mark Donovan of HomeAdditionPlus.com shows how to stain wood, including hardwoods and softwoods.
Before staining wood you need to determine what type of wood you are staining. If the wood grain is uneven or blotchy, chances are it is a softwood.

With softwood it is wise to use a stain pre-sealer before applying wood stain.

After applying wood stain, it is best to apply 2 or 3 coats of a polyurethane finish to provide a shiny and protective finish to the stained wood.
---
For help on building a new custom home, see HomeAdditionPlus.com's New Home Construction Bid Sheet. The New Home Construction Bid Sheet provides you with the knowledge on how to plan a custom home building project, and what to look for when hiring contractors for your new home construction. It also includes a detailed cost breakdown table and spreadsheet for estimating your own new home construction building costs.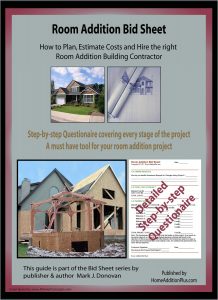 Related Information
---
Additional House Painting and Staining Resources from Amazon.com
---
Painting and Staining Price Quotes For FREE, No Obligation!
Fill out our 3-5 minute quick and easy form, and receive a free price quote on painting & staining from one of our pre-screened and licensed painting & staining contractors. This process is free and there is no obligation to continue once you receive your painting price estimate.