Options for Fixing Blotchy and Uneven Wood Stain
By Mark J. Donovan







Question: Mark, my wife and I stained some oak plywood and it looks very blotchy after we applied the second coat of stain. Can you provide any help on how to fix uneven wood stains?

There are light and dark spots all over the stained wood surface. We've watched your video on Youtube and now know we were staining incorrectly. Thank you for your time.

Answer: J.C., I've been down this same road a couple of times on how to fix blotchy wood stain. 
You put your heart and soul into building a new piece of furniture and then go to stain it to find you get an uneven wood stain finish.
In my first case I just lived with it, but every time I see the piece of unevenly stained wood furniture I still cringe and just mentally shake my head.
The second and last time I experienced this problem I decided I was not going to live with it. I asked around and fortunately learned of several ways to fix uneven wood stain.

I will explain below, however, you might want to also watch my video on how how to stain wood.
How to Fix Blotchy Wood Stain Instructions

Unfortunately I hate to tell you this, but I found the best way to fix blotchy and uneven wood stained surfaces is to sand the wood down and remove the stain.

To sand the wood down and remove the stain you'll need to use a medium grain sandpaper first, followed by a fine grain sandpaper.
I highly recommend using an orbital sander for the large surface areas. Do not use a belt sander to fix uneven wood staining.
You'll ruin the wood by digging gouges into the wood with the belt sander.
After you've sanded the wood down, seal the wood surface with a dewaxed shellac. The dewaxed shellac will help to ensure an even application of wood stain.
Then reapply stain to the wood surface. You should see a much more even application of the stain on this go around. As an alternative to the dewaxed shellac you can try a wood conditioner prior to staining the wood.
This said, I've never had a lot of success with the wood conditioners. The wood can still come out a bit blotchy after staining.

If you don't want to sand the wood down, and you don't care on seeing the wood grain through the stain, you can alternatively apply a gel stain over the stained wood surface.

Gel stain is similar to paint in that it more coats the wood than absorbs into it. 
Apply the gel stain more thickly over the lighter areas of the plywood so that you darken them up compared to the darker areas on the wood.
In the end the gel stain will stain the wood darker and you'll see less of the wood grain, but it will have a more even appearance. I would suggest practicing on a piece of test wood prior to going this route as I show in my video on how to stain wood. Also, if you are planning to stain interior wood trim check out my article on how to pre-finish wood trim prior to installation. You'll save yourself a lot of time and headaches by doing so.
---
See the Installing Interior Window Ebook from HomeAdditionPlus.com. The Installing Interior Window Trim Ebook provides easy to understand, step-by-step instructions, on how to install interior window trim around a window. Pictures are included for every key step in the process.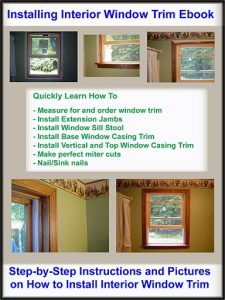 Related Information on Wood Stain and How to fix blotchy and Uneven Wood Stain
---
Additional House Painting and Staining Resources from Amazon.com
---
Painting and Wood Staining Price Quotes For FREE, No Obligation!
Fill out our 3-5 minute quick and easy form, and receive a free price quote on painting & wood staining from one of our pre-screened and licensed painting & staining contractors. This process is free and there is no obligation to continue once you receive your painting price estimate.