Install gutters at the Proper Gutter Slope to Ensure Proper Gutter Drainage
By Mark J. Donovan


In this video Mark Donovan of HomeAdditionPlus.com explains what the needed gutter slope code is to ensure proper drainage of gutters.
When installing gutters it is essential that the gutters maintain the proper gutter slope per foot code to ensure that water drains quickly from the gutters.
The best rule of thumb when it comes to the proper gutter slope is to use a 1/16th inch drop per every linear foot of gutter. This seams to be the industry standard, or gutter slope per foot drop code, in the gutter installation industry. Go here to learn how to install gutters.
For example, if you were to install a gutter that had a span of 16 feet to the down spout, then you'd need a 1 inch drop from where the gutter starts to where it ends at the gutter drain spout.

Use a string and a couple of nails to show the proper gutter slope line along the length of the roof edge after making your calculations.

You can then attach your gutter brackets at the right height along the length of the roof line.
After attaching the string line, and before installing the gutter brackets, use a level to ensure you have attached the string with the appropriate gutter slope.
The gutter slope string line should be such that one end of the bubble on the level is just touching one of the lines within the window, versus having the bubble centered in between the lines.
---
For more help on Shingling Your Home's Roof, see HomeAdditionPlus.com's Asphalt Shingle Roofing Bid Sheet. The Asphalt Shingle Roofing Bid Sheet will help to ensure that your roof won't end up with a blue tarp over it and a dumpster sitting in your yard for weeks as you wait for the roofing contractor to come back and finish roofing your home.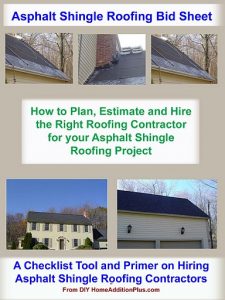 Asphalt Shingle Roofing Cost Estimator
---
Related Articles on Gutter Slopes and How to Install Gutters and Roofing
---
Additional Roofing Resources from Amazon.com
---
Roofing Price Quotes For FREE, No Obligation!
Fill out our 3-5 minute quick and easy form, and receive a free price quote on roofing from one of our prescreened and licensed roofing contractors. This process is free and there is no obligation to continue once you receive your roofing price estimate.