Building Inspectors Provide Much More Value than Simply Issuing Building Permits
By Mark J. Donovan







Building inspectors and building permits play a critical role in the construction of a home.

Building inspectors and permits ensure a home is built to federal, state, and local building codes.

These codes are on the books to make sure your home is a safe place to live in, as well as safe for the environment. They also help to protect your investment.
A home improperly constructed, that does not meet building codes, could be nearly impossible to sell sometime down the road.
Obtaining building permits from building inspectors is frequently analogized with having a root canal. There is often trepidation of bringing home construction plans to a building inspector as there are fears and concerns of having the inspector reject or recommend dramatic changes to them.
It also begins the process of having to have regular building inspections during the home construction or improvement. Also, pulled building permits inevitably trigger the local tax assessor to make a visit to your home.
Unfortunately, there is no way of getting around a building inspector or the permitting process, without a very high probability of major financial repercussions down the road.

A home construction project that was started, and possibly even completed, without pulling building permits could lead to steep fines, cease and desist letters, and even all out orders to tear down the construction.
So it behooves you to visit your local building inspector and pull the required permits prior to actually beginning construction.
For the typical new home construction project or home addition a building inspector will make several visits to the jobsite.
Normally the building inspector will want to see the completed footing and foundation walls prior to the actual start of framing.
In addition, they will want to inspect the framing after it has been completed, and prior to the start of electrical and plumbing work.

After the rough electric and plumbing work has been installed they'll also want to come back to the job site to make sure all the electrical and plumbing are to code.

Also, after the home has been insulated, they'll want to inspect it prior to the installation of drywall.

They'll typically do one final inspection after the walls, floor, and finished electrical and plumbing are completed.

Get this Room Addition Bid Sheet and save time and money on your room addition project.
To find a home inspector in your local area check the American Home inspector Directory, which maintains a national database of home inspectors. Similarly you can find a home inspector via Renovation Expert's national database of contractors and home inspectors. Simply fill out their free form and 3 to 4 home inspectors in your local area will contact you. There is no charge or obligation to use this service or any one of the home inspectors.
---
For help on building a home addition, see HomeAdditionPlus.com's Home Addition Bid Sheets. Our Home Addition Bid Sheets provide you with the knowledge and information on how to plan a home addition project, and what to look for when hiring contractors. They also include detailed cost breakdown tables and spreadsheets for estimating your own new home addition building costs.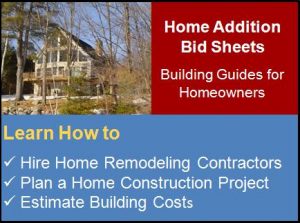 Related Information on Building Permits and Residential Building Code
---
Free Home Addition Price Quotes with No Obligation!
Fill out our 3-5 minute quick and easy form, and receive a free price quote on a house addition from one of our prescreened and licensed home addition contractors. This process is free and there is no obligation to continue once you receive your house addition price estimate.