How Homebuilders can Build Homes that Enable Prospective Home Buyers to Buy Homes in a Rising Mortgage Market Environment
By Mark J. Donovan







As we've watched house prices skyrocket over the past several years, seen 30-year fixed rate mortgages double to around 6% in less than a year, and building material costs continue to stay at elevated nose-bleeding prices, the ability to purchase an existing or new house has evaporated for many would-be home buyers in 2022.

And the chances of the situation improving anytime soon is highly unlikely due to U.S. administration policy moves over the past 18 months to dramatically cause energy price rates to increase to levels not seen since the 1970s.
Moreover, for the past couple of quarters now the housing market has seen a dramatic decline in new housing permit requests, and in more recent months, an increasing rate of home purchase sales agreements be terminated due to escalating mortgage rate increases, and building material cost increases.

Old Ways Needed to Combat Skyrocketing Home Building Costs
So, because of all these facts, it's time for home builders and would be home-buyers to also look back to the early 1980s to tactics home builders and home-buyers employed to enable the housing market back then to still move forward. Specifically, I am suggesting that home builders consider building again "unfinished" homes, that still meet building codes and enable families to legally move into the houses, and home-buyers to start putting in some sweat equity to create their finished home.
The first two homes I purchased in the 1980's were "unfinished" new houses. 

The houses were two story colonials, located in New Hampshire, that had their first levels completed, and their upstairs uncompleted.

On the first level, there was a kitchen, dining room, living room, a bedroom and one full bath. The second level, closed off by a door at the top of the central stairway, only had the roughed in exterior framing done, with insulation between the first and second level.
With both houses, I did the rough framing for the interior walls, installed the rough wiring and plumbing, put in the insulation in the exterior walls and ceiling, sheetrocked the walls and ceiling, installed all the interior bedroom and bath doors, finished the electric and plumbing, did all the interior window and closet door trim and the baseboard trim, and installed tile.
The only thing I didn't do was personally install the carpet. I was fortunate to have an uncle who was an electrician who checked all of my rough wiring and finished wiring before I called for the inspection on the wiring.
Again, I did this work on two homes in a three-year span, with each effort taking me about 4 months to finish the upstairs. I did all the work in the evening, after I got home from my day job, and on weekends.

I was also married with a wife who worked side by side with me on the construction, with two children under the age of 2 years sitting or sleeping in a playpen or crib nearby as we worked.
I flipped the first home after only living in it in just under two years and made a net profit on it of around 20%, all due to our personal sweat equity. This allowed us to buy our second larger home, where we again finished the upstairs. We lived in that house for 27 years, and later added a family room on one side of the house and a two-car garage and bonus room above it on the other side of the house.





The ability for us to purchase our home was thanks to home builders thinking out of the box and building these "starter" / "unfinished" houses.

Truth be told, it was a win-win for both the home builder and home buyers like ourselves.

In the early 1980's housing prices had risen dramatically, and by the mid-1980s 30-year fixed rate mortgages were 10 to 11%, creating the same exact housing market environment we see today in 2022.
With inflation in double digit territory today, mostly brought on by the current administration's energy policies that they are sticking to, and even continuing to ratchet up to the detriment of higher energy costs, the chances of inflation, and high mortgage rates, abating anytime in the foreseeable future is very unlikely.
Consequently, if the housing market is to start any type of positive rebound in the next 12 to 24 months it's going to be due to creative home builders coming up with new ways to enable would-be home buyers to get into new house constructions. Or more accurately, creative home builders are going to have to look back at old playbooks from their predecessors of the 1980s. In some cases, it may mean offering "unfinished" homes like I've described above and/or alternatively, they may have to build much smaller homes, or homes on smaller lot footprints, and/or a combination of both.
And for the would-be home-buyers, they may need to buy a hammer and saw, and be willing to roll up their sleeves and put in some sweat equity to realize their future home.


So even though the future may look a little bleak at the moment for home builders and would-be home-buyers, I am optimistic that smarter non-political heads will prevail in restoring the housing market, and enabling families to realize their dreams to still purchase new houses and raise their children in them. 

 
It just make take a little retro look back at the home building industry from the 1980s, when not only the music being produced was better, but also new home construction was also just as creative.
---
For more help on building a home addition, see HomeAdditionPlus.com's Home Addition Bid Sheets. Our Home Addition Bid Sheets provide you with the knowledge and information on how to plan a home building project, and what to look for when hiring contractors. They also include detailed cost breakdown tables and spreadsheets for estimating your own new home construction building costs.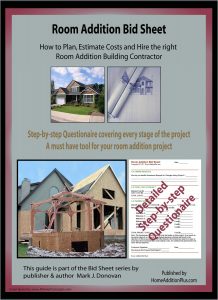 Related Information on Building a Home Addition Cost-Effectively
---
Free Home Addition Price Quotes with No Obligation!
Fill out our 3-5 minute quick and easy form, and receive a free price quote on a house addition from one of our prescreened and licensed home addition contractors. This process is free and there is no obligation to continue once you receive your house addition price estimate.