Use My Home Addition Calculator and Home Construction Cost Tracking Tools
By Mark J. Donovan







The two most critical items of building and managing a home addition construction project is estimating building costs correctly prior to starting the project, and staying on budget during the actual construction.

When I did my first major home construction project, which was finishing the entire upstairs on my first starter home, I took a sheet of paper and generated a detailed budget for every phase of the construction project, and for the total project. In essence, it was my first rudimentary home addition calculator.
During the next several months it took me to finish the upstairs of my house I maintained that budget faithfully, tracking each and every item I purchased and any other cost that was incurred during the project.
My simple home addition calculator comprised of two sets of columns with several dozen rows. The first set of columns was my estimated expenses for each phase of the construction project, and the second set of columns was for my actual costs for each phase of the project. Each phase of the project represented a row in my paper home addition calculator. It was a simple tool, but effective. 
Want to see what my latest Excel based home addition calculator tools look like? See my digital home addition cost calculators associated with my home construction bid sheets here.
When I completed the construction of my upstairs, using my home addition calculator budgeting tool, I was able to compare what I had originally estimated for finishing the upstairs to what it actually cost. And almost just importantly, I was also able to do this for each phase of the project, since I had that level of granularity in my budget.

Effectively with this budget tool, I had created what was to be my first home addition calculator.

Great Room Addition
My rudimentary home addition calculator enabled me to track the overall cost of finishing my home's upstairs, and most importantly, enabled me to maintain my original budget for the project.

From this first major home construction project I was able to estimate per square foot building costs for each phase of my upstairs finishing construction project, such as; framing, electric, plumbing, drywall, flooring, etc., and then use this information later on for calculating home addition costs on my follow-on home construction projects, which there have been many.
Digital Home Addition Calculator Spreadsheets (Excel Based)


Several years later, with the advent of spreadsheet software, I transferred this knowledge and experience to my first digital home addition calculator, with the generation of a New Room Addition Cost Calculator spreadsheet tool. I then created variants of it as I took on other home building projects, including a new home construction calculator, a kitchen remodeling calculator, and many more.

Framing a House Addition
Home Addition Bid Sheets

I bundle these home addition calculators today in my new home construction and home addition bid sheets. The bid sheets themselves are tools that enable homeowners to either act as their own general contractor on their home construction projects, or guide them on how to find the right general contractor for their particular project.
Today, I have thirteen unique home addition bid sheets, with eight of them including a separate home addition calculator Excel spreadsheet that can be used for estimating home addition costs, or home remodeling costs if it is a bathroom or kitchen remodeling type project, and tracking the construction costs during the life of the construction project.


Listed below are the various home construction bid sheets that I offer, that include home addition calculators or home remodeling cost calculators, based on the type of project:
Again, each one of these bid sheet products includes a separate Excel based home addition calculator, or home remodeling calculator.





So, for example, if you're planning to build a 16×16 room addition and you want to know what the costs of building your 16×16 room addition will be, the Room Addition Bid Sheet, along with its Room Addition Cost Calculator tool that comes with it, will enable you to very accurately estimate the total construction costs, and again, for each major phase of the project as well.


So, if you're thinking about a tackling a new home addition project, a remodeling project, or even building a new custom home, remember that having a clear up-front understanding of what the expected total costs of the project is, is critical. 
In addition, it is also essential to track the construction costs during each phase of the project. This is the only way you'll ensure your construction project stays on track with your original project budget. And the best way to do this is with a home addition calculator tool that is both comprehensive and flexible.
---
For more help on building a home addition, see HomeAdditionPlus.com's Home Addition Bid Sheets. Our Home Addition Bid Sheets provide you with the knowledge and information on how to plan a home building project, and what to look for when hiring contractors. They also include detailed cost breakdown tables and spreadsheets for estimating your own new home construction building costs.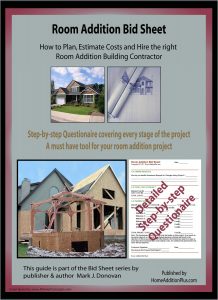 Related Information on Home Addition Cost Calculating and Estimating
---
Free Home Addition Price Quotes with No Obligation!
Fill out our 3-5 minute quick and easy form, and receive a free price quote on a house addition from one of our prescreened and licensed home addition contractors. This process is free and there is no obligation to continue once you receive your house addition price estimate.