A Gable Roof Dormer provides Natural Light, Ventilation and Living Space
By Mark J. Donovan







A gable roof dormer addition is an excellent way to open up an attic to let in more natural light and to create more living space.

Adding a gable roof dormer is also an ideal way to create a bedroom or office space out of an otherwise unused attic.

It also allows ventilation to attic spaces. A gable roof dormer, sometimes referred to as a dog house dormer, is also useful to accent the exterior of a home.
A gable roof dormer has a triangle roof peak and includes a window in its gable end side. A gable roof dormer addition has its ridge line (or roof peak) positioned perpendicular to the main roof line ridge, and has two sloping roof sides.
With larger gable roof dormers their ridge line frequently ties into the main roof ridge. With smaller gable roof dormer additions their ridge lines usually tie into a header located some distance down from the main roof ridge.




Gable roof dormer additions are more expensive to build than a shed dormer, however they are aesthetically more attractive and thus more frequently used on the front of homes, when a dormer is desired.

When building a gable roof dormer addition the load of it is either transferred into the existing roof rafters or the attic floor. 
If the gable roof dormer it is to be tied into the main roof rafters then the main roof rafters that will support the weight of the dormer need to be doubled or tripled up.
Having the dormer addition tie into the main roof rafters is usually preferable as it prevents the need for creating walls within the attic space, thus maximizing the benefits of adding the gable roof dormer addition.
When designing a gable roof dormer addition it is always preferable to have the gable dormer roof pitch be the same as the main roof pitch. In addition, the gable dormer soffits should also be of the same proportion as the main roof soffits.
For more help on building an in-law home addition, see HomeAdditionPlus.com's Home Addition Bid Sheets. Our Home Addition Bid Sheets provide you with the knowledge and information on how to plan a home building project, and what to look for when hiring contractors. They also include detailed cost breakdown tables and spreadsheets for estimating your own new home construction building costs.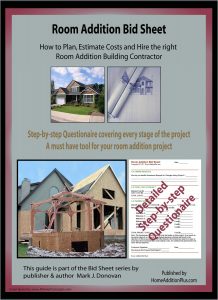 Related Information on Building Gable Roof Dormer Additions
---
Free Home Addition Price Quotes with No Obligation!
Fill out our 3-5 minute quick and easy form, and receive a free price quote on a house addition from one of our prescreened and licensed home addition contractors. This process is free and there is no obligation to continue once you receive your home addition price estimate.