Building an In-Law Suite is a great Alternative to Sending Elderly Parents to an Assisted Living Center
By Mark J. Donovan







Do you have an aging parent or parents who are finding it increasingly difficult to take care of themselves, and who you don't want to see ending up in a nursing home?  

If so one alternative you may want to consider is building an in-law addition onto your home and having them move in with you.

Home Additions for Aging Parents

Building an inlaw suite addition allows your aging parents to have the independence and privacy that all people want, while giving you the opportunity to have them live closer to you so that you can keep a watchful eye out on them. 
Moreover, it also enables them to maintain a higher quality of life in their waning years, and gives your own children an opportunity to benefit from your parents' wisdom and life experiences.
Building an Inlaw Suite Addition Has Cost and Financial Advantages
Electing to build an in-law suite addition provides some financial benefits too, both in the short term and long term. By having your parents move into an in-law addition, you can prevent an assisted living center from wiping out their lifetime savings. Later on, after they have passed on, you can consider renting out the in-law addition for additional income. Or, quite possibly one of your adult children can live in it.
So if building an in-law addition sounds like an attractive idea to you then read on, as I explain some of the key issues to consider in the construction of one.




Inlaw Suite Addition Costs

First, building an in-law addition, or in-law suite, is akin to building a small home onto your existing one, much more so than just building a room addition.

Typically an in-law suite addition is single level and is attached to the side or back of a home, and it needs to include a bedroom, bathroom, kitchen and small living room space. None of the spaces need to be very large.
However, they do need to exist if you want your aging parents to truly have their privacy and independence. Not having a kitchen, for example, will necessitate the need for them to have to cook and eat in the main home's kitchen.
Inlaw Suite Addition Cost Upside Features
There are also a few extra features that need to be incorporated into an in-law suite, and this adds to the inlaw suite addition costs.
Most of them center around safety. For example, handrails will need to be included in the bathtub/shower, and doors and any hallways should be designed larger than standard size to support wheel chairs or scooters. In addition, the exterior of the in-law addition may need to have a ramp to enter it. A small elevator lift may also be required in some cases.
Prior to building an inlaw suite it is a wise idea to first meet with your local building inspector. The inspector can make sure there are no

building code restrictions

that would prevent you from building one.

For example, he/she could confirm that your lot size could support the addition, and/or make you aware of any easements, or zoning laws that would prevent you from building one.
Also, if you have a private septic system, the inspector, could determine if you may need to enlarge it to support the additional bedroom. If the building inspector gives you the green light, then next consider meeting with an architect.
The architect can develop a functional and aesthetic set of building plans for the in-law addition. He will also ensure that it structurally meets all building codes and has all the features and amenities in it to support an elderly person. An architect can also be an excellent resource for overseeing the construction of the addition.
Often architects are hired to ensure that the contractors are constructing the building exactly to the set of plans. 
But Hiring an Architect adds to the Inlaw Suite Addition Costs
Typically an architect adds about 5 to 10% to the overall cost of the project, however it is money well spent.
| | |
| --- | --- |
| If hiring an architect is outside of your budget, you can consider going it alone in terms of the design. Home building magazines and websites offer in-law addition plans that you can purchase. Alternatively, you can purchase a home design software package to generate the set of building plans. The key design issue will be tying the in-law addition into your existing home in an aesthetic way. Elevation and roof lines can be challenging in many cases, thus why hiring an architect may be necessary in the end. | |
In terms of costs, building an in-law addition is pricier than building a simple room addition or a standalone home. The reason for this is two fold. First, the in-law addition needs a bathroom and kitchen which are expensive features. And second, the in-law addition needs to be attached to the main home, which adds to the construction costs. For a rough idea of costs, expect to pay between $125 and $150 per square foot. So for a 1,000 square foot in-law addition you can anticipate it costing between $125K and $150K. The cost will vary depending upon the features in the addition, as well as construction costs for your local housing market.
Another alternative to creating an in-law apartment for your elderly parents is to finish a basement that is full featured in terms of including a bedroom, kitchen, bathroom and living room.

However, I don't recommend this approach. The main reason is that most basements require stairs for ingress/egress.

If the basement has a walkout design, then at least this concern is eliminated.





However, if the walkout is on the back of the home and requires your aging parents to walk across a lawn to the driveway, then it's not a viable solution.
Basement apartments also can be dark and damp if not designed right. Thus, the in-law apartment could be somewhat depressing, and even unhealthy if there are mold and mildew issues. The increased moisture levels typically found in basements can also exacerbate joint pain associated with arthritis. Lastly, finished basements are pretty noisy for those living in it. Foot traffic over head is a constant problem with basement apartments.
To conclude, if you have aging parents that are still fully functional, but both you and they would like to have them living closer to you, then building an in-law addition may be a viable solution. An in-law addition allows elderly people to have their complete independence, while providing peace of mind for all.
Moreover, besides eliminating the need for a nursing home, it also enables your parents to reconnect with you and your children and bring the family closer together. And later on, down the road after they have passed on, the addition could serve as a good rental property to help with your own retirement income.
---
For more help on building an in-law home addition, see HomeAdditionPlus.com's Home Addition Bid Sheets. Our Home Addition Bid Sheets provide you with the knowledge and information on how to plan a home building project, and what to look for when hiring contractors. They also include detailed cost breakdown tables and spreadsheets for estimating your own new home construction building costs.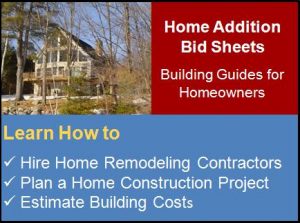 Related Information
---
Free Home Addition Price Quotes with No Obligation!
Fill out our 3-5 minute quick and easy form, and receive a free price quote on a house addition from one of our prescreened and licensed home addition contractors. This process is free and there is no obligation to continue once you receive your home addition price estimate.