R-11 to R-49 Insulation Thickness Depths and determining the Right Fiberglass Insulation R-values for the Different Areas of your Home
By Mark J. Donovan







So what does R-49 insulation thickness depth mean? Well before I answer that question it is first important to understand how insulation is sold.

Batt and rolled fiberglass insulation are two of the most common types of insulation found in residential construction.

Batt and rolled fiberglass insulation are available in numerous R-values, lengths, widths, and thicknesses, and is used in walls, floors, and attics. 
R-value is a measure of how well a particular type of insulation impedes heat transfer.
The R-value of batt and rolled fiberglass insulation varies a little by manufacturer. Typically it is in the range of 2.9 to 3.8 per inch.





Summarized below is a table that will enable you to quickly compare batt and rolled fiberglass insulation R-values with corresponding thicknesses.

How Much Batt or Rolled Fiberglass Insulation is Required?

Well it depends upon where you live. However summarized below are some general guidelines. You can also check out this map of the United States to see what the right Insulation R-Values for your home should be for your particular region of the country.
Walls – Wall insulation is dependent upon the type of framing used in the walls. If the walls were constructed out of 2x4s, you can use R-11 to R-15 rolled fiberglass insulation. If the walls were constructed out of 2x6s, you can use R-19 to R-21. See this article to learn how to easily cut fiberglass insulation rolls and batts.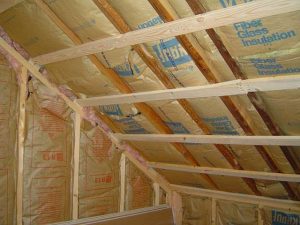 Here is an example of rolled insulation installed in an attic. R-49 insulation thickness is commonly used in attics in northern climates. R-30 insulation thickness, or even R-19 thickness is often used in warmer climates. 
Note that R30 batt insulation thickness is just 9-1/2 inches thick where as R-49 batt insulation thickness is 15-1/2 inches. This is a significant difference and thus why R-49 batt insulation is used typically in colder climates. And for those asking how thick is r38 insulation, it is 12 inches thick.
Attics – In colder climates the U.S. Department of Energy (DOE) recommends using a minimum of R-49 insulation thickness. You can achieve an R-49 R-value thickness by stacking R-19 on top of R-30.

In warmer climates you can get away with R-38 insulation in the attic.Floors – The U.S. DOE recommends using R-25 insulation in colder climates and R-11 in warmer ones.
Check out these other attic insulation tips and make sure you also insulate your attic door properly.
---
For help on building a home addition, see HomeAdditionPlus.com's Home Addition Bid Sheets. Our Home Addition Bid Sheets provide you with the knowledge and information on how to plan a home addition project, and what to look for when hiring contractors. They also include detailed cost breakdown tables and spreadsheets for estimating your own new home addition building costs.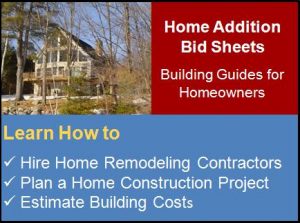 Related Information
---
Free Home Addition Price Quotes with No Obligation!
Fill out our 3-5 minute quick and easy form, and receive a free price quote on a house addition from one of our prescreened and licensed home addition contractors. This process is free and there is no obligation to continue once you receive your house addition price estimate.