Different R-value Insulation Requirements for Different areas of the Home
By Mark J. Donovan







If you are in the process of purchasing a new home, one area that you should pay close attention to is the insulation R-values throughout the home. The insulation R-value is a metric for rating how well a particular type of insulation resists heat transfer.

The higher the R-value the more effective the insulation is in preventing the flow of heat. This is an important metric whether you live in a cold or hot climate.
A home in a hot climate will have high energy bills due to air conditioning, whereas a home in a cold climate will have high energy bills due to heating.
There are several types of insulation, however the prevalent types used in homes are batt and blanket insulation, rigid foam insulation, blown cellulose fiber insulation and sprayed foam insulation. Each has different R-values due to the fact that they are manufactured out of different types of materials.
Batt and Blanket Insulation R-values
Batt insulation, or blanket insulation is typically made from pink fiberglass or yellow looking rockwool material and is used prevalently in walls, attics and between floors. Their R-value is approximately 3.14 to 4.0 per inch, respectively. This type of insulation is slid into place between wall studs and ceiling and floor joists and stapled into place. Some types come with a paper facing, others do not. Blanket insulation typically comes in long rolls that can be cut to length, whereas batt insulation comes in many 4 or 8 foot lengths per bundle.
Rigid Foam Insulation R-values

Rigid foam insulation is typically used on exterior sheathing or around foundation walls. It is also used in basements between furring strips attached to concrete walls. Typically rigid foam insulation has an R-value of 4.4 per inch.

Spray Foam Insulation R-values

Spray foam insulation is used in homes between wall studs and floor joists, and in ceilings. 
It is typically installed by a professional as it requires some sophisticated equipment. The two part liquid polymer is sprayed from a nozzle into walls, floors and ceilings.
As it is sprayed it rapidly expands to fill the cavity. When used in between wall studs on new home construction, after it has been sprayed and expanded, it is then trimmed to the wall thickness using a saw. Spray foam insulation is ideal for older existing homes, as small holes can be drilled in between the wall studs, and the insulation sprayed in. The R-value of spray foam insulation is approximately 3.7 per inch.
Blown Cellulose Fiber Insulation
Blown cellulose fiber insulation is made from chemically treated recycled newspapers. The chemicals help to ensure the insulation material is fire retardant and moisture resistant. Cellulose fiber insulation has an R-value of approximately 3.5. Though it can be used in walls, attics and between floors, it is ideally suited for hard to reach places, such as attics. It is great for filling in between cracks and otherwise hard to insulate places. Typically a professional needs to install this type of insulation as it requires some special equipment for blowing it into place. Overall blown cellulose fiber insulation costs a little more than batt or blanket insulation, however it has a better R-value and more tightly seals hard to insulate areas.
Use the Correct R-Value for Your Region
It is important to use the correct insulation R-values in specific areas of the home, for your region of the country. The U.S. Department of Energy has published guidelines for the recommended R-values for each region of the country. (See below). It is important when buying a home to make sure that the building contractor has insulated the home using these recommend R-values for your area.
---
For help on building a home addition, see HomeAdditionPlus.com's Home Addition Bid Sheets. Our Home Addition Bid Sheets provide you with the knowledge and information on how to plan a home addition project, and what to look for when hiring contractors. They also include detailed cost breakdown tables and spreadsheets for estimating your own new home addition building costs.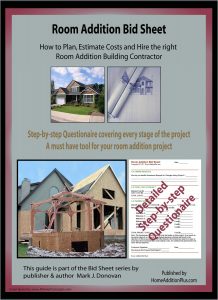 Related Information on House Insulation
---
Free Home Addition Price Quotes with No Obligation!
Fill out our 3-5 minute quick and easy form, and receive a free price quote on a house addition from one of our prescreened and licensed home addition contractors. This process is free and there is no obligation to continue once you receive your house addition price estimate.