A Custom Ceramic Tile Shower Starts with a Well Framed Shower Pan Base
By Mark J. Donovan







A properly framed shower pan base is critical for a building a leak free mortar shower pan. Mortar shower pans are commonly used in custom ceramic tile showers when the shower floor is tiled.

See how to install a mortar shower pan in this eBook.

To frame a shower pan base, first build up the shower walls using 2x4s. The wall studs should be on 16" centers wherever possible. 
In some cases this may not be possible, such as in the case where the shower wall studs may impede upon the plumbing supply and drain lines. As a result you may have to adjust the location of some of the shower wall studs.
After framing the shower wall studs, it is important to install 2×6 blocking in between each wall stud to frame the shower pan base area. The 2×6 blocking should be positioned in between the shower wall studs such that a smooth shower base well is created.
The 2×6 blocking acts as a form for the mortar shower pan, as well as a nailing surface for attaching the

flexible shower pan membrane liner

to. The shower pan membrane liner is sandwiched in between two layers of mortar to form the finished shower pan base.

In addition to framing in the shower wall studs and 2×6 blocking, it is important when framing a shower pan base to have a strong and stable subfloor surface. Typically a subfloor is created out of ¾ inch tongue and groove plywood. 
It is wise to install another ½ inch or ¾ inch exterior grade plywood over the subfloor to create a 1-1/4 to 1-1/2 inch thick subfloor surface.
Including additional plywood over the subfloor material when framing a shower pan based is even more critical if the existing subfloor has been structurally compromised, such is often the case when plumbing drain pipes are installed.
Finally, it is important to include a shower pan curb on the outside edge of the custom ceramic tile shower unit. You can either use a length of 4"x4" material or simply laminate 2 or 3 lengths of 2"x4"s together to create the shower pan curb. Make sure the shower pan curb is fastened securely to the subfloor using either long screws or 16 penny nails.

With the shower pan curb installed the framing in of the shower pan base is complete. 
You can then move on to the next stage of building your custom ceramic tile shower, installing the mortar shower pan.
---
For more help on building a home addition, see HomeAdditionPlus.com's Home Addition Bid Sheets. Our Home Addition Bid Sheets provide you with the knowledge and information on how to plan a home building project, and what to look for when hiring contractors. They also include detailed cost breakdown tables and spreadsheets for estimating your own new home construction building costs.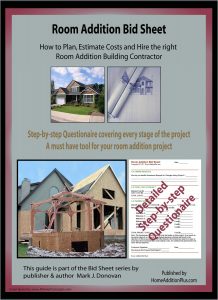 Related Information
---
Additional Framing Resources from Amazon.com
---
Free Home Addition Price Quotes with No Obligation!
Fill out our 3-5 minute quick and easy form, and receive a free price quote on a house addition from one of our prescreened and licensed home addition contractors. This process is free and there is no obligation to continue once you receive your home addition price estimate.