Architect Design Service offerings go beyond Simply Designing Home Plans
By Mark J. Donovan







When building a new custom home or home addition many homeowners enlist the design services of an architect to generate a set of house plans.

For most people who visit an architect for the first time they walk away both excited and confused.

Their excited about making their home construction a reality, however their often confused on the architect design services and fees offered to them during their meeting.
Architect Design Services
Though there are some architectural firms that mainly focus on just creating blueprints and house plans, there are many others who offer full turn key architect design services.
As part of their full service architect design services, the architect firm will review your local building code requirements, perform structural engineering analysis, develop detailed engineering schematics, generate bills of materials, assist you in your contractor selection and construction bidding process, and provide project oversight to make sure your new home construction project is built as specified in your architectural home plans.
In addition, architectural home plans are not all created equal. Architects can develop home plans in various levels of complexity.

They can produce basic home plans sufficient enough to pull home construction permits, to detailed home plans that include everything down to which kitchen cabinet knobs, and wall coverings will be used.
Architect Design Fees
As can be expected architect design fees vary with the level of services provided. For a basic set of home plans, architect fees are usually a set dollar amount.
With full service architect design services, expect to pay architect fees anywhere from 5-15% of the entire cost of the new home construction project.
For the average homeowner, the first question that often comes to mind when hearing the various architecture design services and architect fees offered is "why do I need to hire an architect for anything more than designing a complete set of house plans". On the surface this is a valid question, however an architect can be a godsend when building a custom home or even a home addition.
A new home construction project is a major endeavor, and unless you are knowledgeable about the home construction industry you may lack the resources to ensure your new custom home is built to your complete satisfaction. An architect, on the other hand, who has designed your house plans, and who intimately knows the residential home building industry, can provide the right level of project oversight that most homeowners cannot.
Though the thought of paying 5-15% of a new home construction project for architect design services seems like a lot for many homeowners, it is important to realize the amount of work and expertise required in designing home plans. Architects are a unique breed of people as they possess a combination of artistic skills and engineering knowledge acquired through extensive education and experience.
In addition, there is an incredible amount of work and responsibility that needs to go into producing a complete set of home plans. They have to design home plans that are both aesthetically attractive and structurally sound.

To accomplish this they have to fully understand your home requirements, and national and local building codes, and be extremely knowledgeable in structural engineering.
Add to this the architect design services of contractor selection, bid reviews, and project management functions, and it becomes easier to understand why their fees are as high as they are.
So before immediately dismissing a full architect design service package, consider all the benefits and value it can bring to the table with your new custom home project.
For the homeowners who have enlisted the full services of an architect firm the experience is almost unanimously positive. For the most part, even professional contractors like working with architects, as they know they are working with a fellow professional in their industry.
---
For more help on building a new custom home, see HomeAdditionPlus.com's New Home Construction Bid Sheet. The New Home Construction Bid Sheet provides you with the knowledge on how to plan a custom home building project, and what to look for when hiring contractors for your new home construction. It also includes a detailed cost breakdown table and spreadsheet for estimating your own new home construction building costs.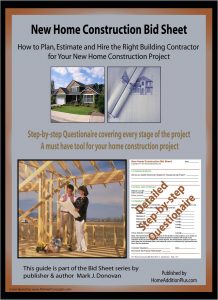 Related Information on Hiring Architects and Home Design Software Tools
---
Free Home Addition Price Quotes with No Obligation!
Fill out our 3-5 minute quick and easy form, and receive a free price quote on a house addition from one of our prescreened and licensed home addition contractors. This process is free and there is no obligation to continue once you receive your house addition price estimate.