Identifying a Load Bearing Wall can be a Tricky Endeavor
By Mark J. Donovan







Load bearing walls are key structural components of your home. Load bearing walls carry and/or transfer the weight that rests above them down to a

foundation wall

or a concrete footing pad.

Identifying a load bearing wall can be tricky as frequently they are well hidden. However there are ways for a homeowner to assess if a wall has the potential for being a load bearing wall. Note that removing or modifying a load bearing wall can be extremely dangerous. 
So before deciding to modify or remove a wall within your home it may be wise to contact an architect or structural engineer first.
The best way to identify if a wall is a load bearing wall is to start in your basement or at the concrete pad level and work your way up through the levels of your home.
Frequently there are steel/concrete lally columns supporting a center beam in the middle of the home. The center beam normally runs perpendicular to the floor joists. These lally columns are resting on concrete footing pads and are supporting the center beam and much of the weight of the home. Frequently in a finished basement these lally columns are sandwiched between a framed wall covered by drywall.
Exterior walls that sit on the foundation walls and support the weight of the roof are load bearing walls. If the home is for example a colonial style or cape style home, the front and back exterior walls may be the only two exterior walls that are load bearing.

If on the other hand the roof is a hip style roof, then all four sides of the home's exterior walls are load bearing. Note, even the exterior walls that are not appearing to support the roof may be supporting a portion of it, and the weight of the second or third floor of the home.
Again, in the basement, exterior walls resting on the foundation sill should be considered load bearing.
They should not be modified until a structural engineer has inspected them and given instructions on how to safely modify them. It is important to note that when modifying a load bearing wall the weight above it should be braced first.
Finished basement walls that were created via attaching furring strips to the concrete foundation walls are usually not load bearing. Also, any perimeter basement walls that are constructed up against the sides of the foundation walls are also not typically load bearing walls. In addition, framed basement walls that run parallel to the first floor floor joists are also not typically load bearing.
As you make your way to the first and second floors of a home, typically any wall that sits relatively center to the home, and runs parallel above the basement center beam and lally columns, is probably a load bearing wall. In addition, any wall that runs perpendicular to the floor joists could also be a candidate for a load bearing wall, even if it does not sit directly over the center beam or a structural beam or post. Again, walls that run parallel to the floor joists probably not load bearing walls.

If large posts and/or beams are visible on the first or second floor of the home they are likely candidates for being load bearing. They may be supporting the weight of walls or portions of the roof that rests above them.

Use this room addition checklist and save time and money on your home construction project.
Sometimes finding posts or beams in the first and second floor of a home can be difficult. Frequently they are hidden behind drywall, or even behind decorative posts and beams.
To conclude, before removing or modifying a wall within your home you need to be absolutely sure it is non-load bearing. If it is, and you attempt to remove or modify it without first properly bracing the ceiling above it, you could be threatening your life and/or causing structural damage to your home. So again, if there is any doubt in identifying a load bearing wall, contact a structural engineer first before starting any de-construction.
---
For more help on building a home addition, see HomeAdditionPlus.com's Home Addition Bid Sheets. Our Home Addition Bid Sheets provide you with the knowledge and information on how to plan a home building project, and what to look for when hiring contractors. They also include detailed cost breakdown tables and spreadsheets for estimating your own new home construction building costs.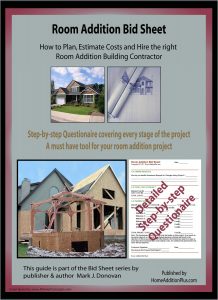 Related Information on Framing and Load Bearing Walls
---
Additional Framing Resources from Amazon.com
---
Free Home Addition Price Quotes with No Obligation!
Fill out our 3-5 minute quick and easy form, and receive a free price quote on a house addition from one of our prescreened and licensed home addition contractors. This process is free and there is no obligation to continue once you receive your home addition price estimate.