Tips for Framing Shower Walls for a Ceramic Tile Shower and Shower Pan
By Mark J. Donovan







Framing shower walls properly is the first step to building a quality custom

ceramic tile shower

with a mortar shower base.

To frame shower walls all you need is a hammer, 16 penny nails or 3 inch screws, skill saw, framing square, a 4 foot level and some 2x4s and 2x6s.

Framing shower walls is really no different than framing any other wall, with a couple of exceptions. 
Whether you plan to stick build the shower walls in place or pre-frame the shower walls on the floor first, it is extremely important to make sure the framed shower walls are straight and plumb.
How to Frame a Shower
Use a framing square to mark the location for the shower walls on both the floor and the ceiling, and use a 4 foot level to ensure they are plumb.
To frame a shower wall into an existing finished bathroom, it is probably best to stick build the walls in place. To do this, first install the 2×4 foot plate and a 2×4 top plate.

Fasten the foot plate and top plate to the floor and ceiling respectively using either screws or nails.

When fastening the top plate to the ceiling, make sure you fasten it into ceiling joists and not just the drywall. 
Depending upon the orientation of the framed shower walls, you may need to include additional blocking in between the ceiling rafters.
Framing Shower Walls
After installing the top and bottom plates, next measure the distance between the two plates for determining the wall stud height.




Next, using a framing square mark the locations of the 2×4 wall studs along the top and bottom plates. The wall studs should be located 16" on center from each other.

Note, however, that you may need to adjust the location of the wall studs if they may impede into the area where the mixing valve and plumbing pipes are expected to go.

Once you have marked the locations for the framed shower wall studs, cut the necessary number of 2x4s and install them one at a time in-between the top and bottom plates.

Use this eBook to learn how to install a mortar shower pan properly.
Use either nails or screws to toe nail them into the plates.
Note that if you are framing shower walls into an already completed bathroom use screws to prevent nail pops in the existing drywall walls.
Repeat this process for all of the remaining shower walls.
If you are framing shower walls on a new home construction project, you can alternatively build the walls on the floor and then lift them into place.
Framing in additional lengths of 2×4 for Shower Stall Doors
After framing in the main structural shower wall studs, it is important to install additional wall studs where shower doors are expected to be attached to the shower walls.
In addition, make sure that where one framed shower wall meets another that there is a wall stud on the adjacent shower wall such that the two wall studs form a framed corner. This is necessary for having sufficient wall framing surface for installing cement backer board.
Framing Shower Walls – 2×6 Blocking

Once you have framed in the shower wall studs, it is now time to add 2×6 blocking in between the 2x4s, along the base of the shower stall. The blocking is necessary for building the ceramic tile shower pan. The shower pan membrane liner attaches to the upper edges of the 2×6 blocking. In addition, the 2×6 blocking also helps to hold the mortar in place as it cures.
Framing the Shower Pan Curb
Finally, frame in a shower pan curb using 2 or 3 laminated 2x4s. To do this, again nail or screw a bottom plate along the shower curb area, and then mount either one or two additional 2×4 plates on top of it, depending upon how high of a shower curb you desire. Alternatively you can use a 4"x4" to frame in the shower pan curb.
With the shower curb installed your framed shower walls are ready for the next step, installing the rough plumbing; including the mixing valve, hot and cold supply lines, drain lines, and an adjustable shower pan drain assembly.
---
For more help on building a home addition, see HomeAdditionPlus.com's Home Addition Bid Sheets. Our Home Addition Bid Sheets provide you with the knowledge and information on how to plan a home building project, and what to look for when hiring contractors. They also include detailed cost breakdown tables and spreadsheets for estimating your own new home construction building costs.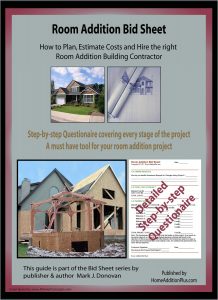 Related Information on How to Frame a Shower and Building Custom Shower Pans
---
Additional Framing Resources from Amazon.com
---
Free Home Addition Price Quotes with No Obligation!
Fill out our 3-5 minute quick and easy form, and receive a free price quote on a house addition from one of our prescreened and licensed home addition contractors. This process is free and there is no obligation to continue once you receive your home addition price estimate.