Bathroom Remodeling Design and Planning Ideas
By Mark J. Donovan







Bathroom remodeling is one of the best ways to invest in your home. Besides providing a high return on investment, remodeling a bathroom also gives homeowners the opportunity to improve their experience in a space that often is their only personal sanctuary.

The size and scope of a bathroom remodeling project varies with budget, bathroom size and personal tastes.
For example, remodeling a bathroom could be as limited as simply changing the throw rugs, accessories and window treatments, or it could be as comprehensive as replacing the tub, toilet, vanity and flooring.
For most, however, a bathroom remodeling project typically involves replacing some, if not all, of the bathroom plumbing fixtures, installing a new bathroom vanity and countertop, and replacing the flooring.
In addition, accessories like new window treatments, floor rugs, and wall painting are also included.
Bathroom Design
Before actually starting a bathroom remodeling project it is important to first develop a bathroom design and layout that specifies your remodeling objectives and desired features.
You may want to consider hiring a bathroom designer to help in the process, particularly if your bathroom is relatively small and you want to maximize every square foot of space in it. They also have knowledge of the latest bathroom technologies, so for example you may still be able to fit in a Jacuzzi tub even though you have limited floor space and smaller bathtub plumbing supply lines.
Depending upon the amount of time you spend in your bathroom and the desired features you are looking for in your bathroom remodeling project, you may also want to consider blowing out a wall to increase the overall size of the bathroom.

Knocking down a wall, or moving one, however requires careful structural analysis and design to make sure you are not removing or modifying a load bearing wall.
Besides the installation of new bathroom plumbing fixtures, flooring, and a bathroom vanity/countertop you might also want to consider the inclusion of a custom ceramic tile shower in your bathroom remodeling plans. A ceramic tiled shower can provide unique beauty and comfort that is not realized with the standard fiberglass shower stall or combo shower/tub unit. Also, it's typically best to spend bathroom remodeling dollars on items and features that will get the most use. For example, most people take daily showers, rather than baths. Also consider heated towel racks and floors, and fog free mirrors. All provide functionality and personal comfort to a remodeled bathroom.
Once you have created a layout and determined the major features for your bathroom remodeling project you can then move on to the actual item selection process, such as choosing paint/plumbing fixture/tile color schemes, vanity and countertops, flooring and tile styles and sizes.

Making decisions on these items can be tough, and again a bathroom designer can give you some good hints on what items work best with each other. As it relates to flooring, ceramic tile is very popular due to its durability, and low maintenance.
For the most part, it is also impervious to water and moisture damage. Larger tiles are more popular in bathrooms today, however they require a level and rigid subfloor. Smaller mosaic tiles are also used a lot today and come in a myriad of colors and styles. Smaller tiles also help to reduce slipping in the bathroom.
Bathroom Fixtures
There is an endless array of bathroom fixtures to choose from. In regards to sinks and vanities, there are the traditional cabinet and drop in sink styles, but also very popular today are vessel sinks that sit on top of bathroom cabinets. For smaller bathrooms you may want to consider a pedestal sink.
In terms of bathroom faucets, again, there are many options to choose from. Some work better with different bathroom sink types so make sure to see what faucet works best for your bathroom vanity, countertop and sink selection.
Shower and tub faucet fixtures also vary widely in features. There are massage jets that shoot outwards from shower walls to provide hydro massages while you take your shower.

There are also multiple shower head fixtures and even some that mount directly to the ceiling. Always make sure, however, to pick shower and sink faucets that complement the plumbing fixtures.
Bathroom Lighting
One of the most important items to consider in a bathroom remodeling project that is often forgotten until the last minute is adequate bathroom lighting. Plan to include as much natural lighting in the bathroom as possible.
Window treatments should be designed for privacy while not blocking natural light entry. Also, make sure the bathroom design includes overhead lighting as well as work lighting over the bathroom vanity / countertop area.
To conclude bathroom remodeling is one of the best investments you can make in your home. Besides providing added comfort and pleasure to you and your family, they provide a high rate of return on investment. Just make sure to develop a good set of plans prior to starting your bathroom remodeling project.
---
For help on your bathroom remodeling project, see my Bathroom Remodeling Bid Sheet. The Bathroom Remodeling Bid Sheet provides a request for quote checklist section that you can provide to prospective bathroom remodeling contractors. It also includes a comprehensive bathroom remodeling cost breakdown table, in Microsoft Excel format, that allows the contractor to include his projected remodeling costs for every phase of the project.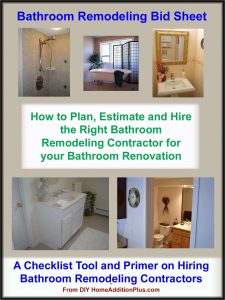 Related Information
---
Additional Bathroom Remodeling Design Resources
---
Get Free Bathroom Remodeling Price Quotes with No Obligation!
Fill out our 3-5 minute quick and easy form, and receive a free price quote on bathroom remodeling from one of our prescreened and licensed bathroom remodeling contractors. This process is free and there is no obligation to continue once you receive your bathroom renovation price estimate.