Stop Standing in Line to Use the Bathroom with a new Bathroom Addition
By Mark J. Donovan







If you have a growing family or have an older home, a bathroom addition is a great way to resolve having to stand in line in the morning.

Bathroom additions can also increase the value of a home. Typically you can recoup nearly all of your investment in a bathroom addition when you eventually sell your home, and in some cases it can mean the difference between selling and not selling your home.
A few decades ago a single bathroom in the home was fairly common. Today most home buyers prefer to see two or more bathrooms in the home. They preferably like to see a master bathroom suite in the master bedroom, along with a full bath near the other bedrooms.
In addition, most homebuyers like to see a half bath or powder room on the first floor. So if your home is older, and you are tired of standing in line to use the bathroom, then a bathroom addition may be an excellent investment in your home.
After deciding upon installing a bathroom addition the next big question that arises is where to put it. In some cases a bump out on the existing home may be necessary, however in other cases it can be possibly carved out of existing home living space. If you are building a large home addition, then a bathroom addition may also be part of it.
Bathroom Design

When developing a bathroom design it is important to keep in mind the necessary space required for the various work stations within the bathroom.

For example a standard size shower stall area typically needs about 30 to 40 square feet, a bathroom vanity area about 16-20 square feet, and a toilet area approximately 9 square feet.

If you are installing a Jacuzzi tub you will need approximately 30 square feet for it alone. 
The size and amenities of your bathroom addition really depend upon your personal needs, and who you anticipate using the bathroom regularly.
However, it is also important to key in mind resale value. Make sure you develop a bathroom design that is attractive to eventual home buyers. Also as part of the bathroom design you want to carefully consider the bathroom floor layout.
It is important that your bathroom addition is functional and that you have plenty of room to maneuver in it. The location of your bathroom addition will also impact building costs, so it is important that the size and location be carefully considered during the bathroom addition planning stage.
Bathroom Additions – Lighting

Bathroom lighting is another major consideration when designing bathroom additions. Natural lighting is always preferable to include in a bathroom addition.

Spot lighting over key work areas of the bathroom is also extremely important. You want to make sure that you have sufficient lighting over the bathroom vanity and the shower/tub areas.

Bathroom Fixtures and Bathroom Flooring

When it comes to bathroom additions there is also a myriad of choices as it relates to bathroom fixtures, flooring and cabinetry. Today most home buyers prefer to see plentiful use of ceramic tile.

Use this Bathroom Remodeling Bid Sheet and save money and time, and prevent hassles on your bathroom remodel.
Custom ceramic tile showers are extremely popular today, however special shower pans need to be constructed before installing a ceramic tile shower. See my Shower Pan Membrane Liner Ebook to learn how to install your own shower pan membrane liner for your custom ceramic tile shower. The use of ceramic tile on the bathroom floors and walls is also highly desirable in bathrooms today. Marble bathroom countertops, as well as pedestal bathroom sinks are also something you may want to consider in your bathroom addition.
Once you have captured on paper a sketch of your bathroom addition and a list of desired bathroom fixtures and features you can then move on to finding a bathroom addition remodeling contractor.
Bathroom Additions and Financing

Bathroom additions can be very expensive depending upon the features of it. For example a simple powder room is relatively inexpensive compared to a large master suite bathroom with a custom ceramic tile shower area and a separate Jacuzzi bath. In addition, plumbing contractors and bathroom fixtures are not cheap.

Consequently, for most folks, financing will typically be required for at least a portion of the bathroom addition.
When adding a bathroom addition, there are a couple of loan options you can typically choose from, either obtaining a home equity loan, or totally refinancing your home and increasing your overall home mortgage. The right answer depends upon your particular financial situation.
Hiring a Bathroom Addition Contractor
Once your bathroom addition plans and financing terms are in order you can then begin the process of finding a bathroom addition contractor and/or subcontractors for the project. Hiring the right bathroom addition contractor is critical for ensuring a smooth bathroom remodeling or bathroom addition project. Hiring the wrong bathroom contractor can result in cost overruns, schedule slips and a bathroom that in no way resembles your plans.
An excellent way to locate a qualified bathroom addition contractor is to use a national home contractor referral company. They have a large database of pre-screened and qualified bathroom remodeling contractors in their system, that are located all over the country. In addition, their services are free to you. Simply fill out a free online form for your specific bathroom addition needs and they will forward the information on to 3 or 4 bathroom addition contractors in your area. The contractors will then contact you to set up a time to meet with you and review your bathroom addition plans.
Obtaining Bathroom Addition Estimates
When obtaining bathroom addition estimates it is important to make sure that each potential contractor provides you with a complete bathroom addition cost breakdown list for every phase of the project. The more detail in the bathroom addition cost breakdown list, the higher probability that the estimate will be accurate and indicative of the true cost of your bathroom addition.
To help in obtaining accurate and consistent bathroom addition contractor quotes, see my Bathroom Addition Bid Sheet. The Bathroom Addition Bid Sheet provides a request for quote section that you can provide to prospective bathroom remodeling contractors. It also includes a comprehensive bathroom addition cost breakdown list, in Microsoft Excel format, that allows the contractor to include his projected bathroom addition costs for every phase of the project.
When interviewing bathroom remodeling contractors, make sure you check their references. I typically prefer to check 3 to 4 references. Normally I check a couple references associated with recent projects and a couple that were done out in time, e.g. approximately 3 to 5 years ago. By doing this, I get a better feel of their current work habits, as well as a sense of how their work stands the test of time.
Usually a good yard stick for evaluating a bathroom addition contractor is to see how long their reference list is. The longer the list the contractor provides to you, the higher the likelihood that he has a good track record. A long reference list also helps to get a feel for how long he has been in business and his level of pride in his work.
Cost per Square Foot for a Bathroom Addition
Finally, it is important to remember that the cost per square foot for a bathroom addition is typically higher than building a brand new home. The reason for this is that a bathroom addition requires additional work and time to integrate it into the existing home. In addition, a brand new home construction project offers economies of scale. With a bathroom addition you may be adding only 40-50 square feet of new living space, whereas with a new home construction project you may be building 2,000 to 4,000 square feet of living space.
So with a solid bathroom design and upfront conversations with the local building inspector and the bank, the probability of a successful bathroom addition project are greatly improved. Just remember that a bathroom remodeling project, as is the case with any home addition, will cause some temporary family disruptions. However, the new bathroom addition will be well worth the temporary pain and annoyances. In addition, with the upfront planning described above the annoyances and setbacks should be greatly reduced.
---
For help on your bathroom remodeling project, see my Bathroom Remodeling Bid Sheet. The Bathroom Remodeling Bid Sheet provides a request for quote checklist section that you can provide to prospective bathroom remodeling contractors. It also includes a comprehensive bathroom remodeling cost breakdown table, in Microsoft Excel format, that allows the contractor to include his projected remodeling costs for every phase of the project.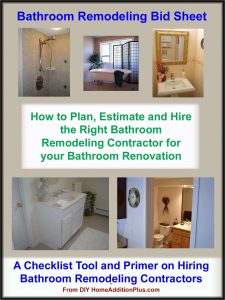 Related Information on Bathroom Remodeling and Bathroom Additions
---
Additional Bathroom Remodeling Design Resources
---
Get Free Bathroom Remodeling Price Quotes with No Obligation!
Fill out our 3-5 minute quick and easy form, and receive a free price quote on bathroom remodeling from one of our prescreened and licensed bathroom remodeling contractors. This process is free and there is no obligation to continue once you receive your bathroom renovation price estimate.