Contemporary Bathroom Remodeling Design Ideas that Will Transform Your Bathroom 
By Mark J. Donovan







Modernizing your bathroom by doing a complete bathroom renovation on it provides both short and long term benefits. It provides instant beauty to an outdated space, and it will increase the resale value of your home.

A bathroom remodeling modernization project starts with writing down your bathroom remodeling design ideas that you want to achieve to truly obtain that modern bathroom.

You will need to create a bathroom remodeling floor plan sketch and a list of the features you want to see in your remodeled bathroom.
A bathroom remodeling project can vary in size from as large as building a new bathroom in your house, to simply remodeling an existing bathroom. If you have plans to install a new bathroom in your house, then you will need to include the location of walls, doors and windows in your new bathroom addition floor plans. You may also have to expand the size of the house, and possibly involve and architect. If on the other hand you're remodeling an existing bathroom then the amount of work required in the development of your bathroom design plans is less extensive and expensive.
Over the decades I have finished many bathroom remodeling projects. Each varied in complexity. Below I share my thoughts and experiences on completing a bathroom remodeling project and provide some insight on modern bathroom remodeling design ideas. 
Construction of a New Bathroom
If your bathroom remodeling design ideas involve the actual construction of a bathroom addition you will need to consider wall framing and the location of where you will run drain and vent pipes. Typically you will need to tie these into the existing drain/vent stack, unless you want to even more raise construction costs. In addition, you'll need to consider how plumbing supply lines will be fed into the new bathroom addition.
If, on the other hand, your bathroom remodeling design ideas are much simpler you may be able to avoid framing and the hiring of a plumber altogether.
Structural Bathroom Remodeling Design Ideas for a New Bathroom Addition

If you plan on carving out a bathroom addition from your existing living space, make sure you make it large enough for the bathroom fixtures desired with sufficient space to maneuver in it comfortably. Also, you may want to check with your local building inspector to make sure you build it to the proper building codes, e.g. for wheel chair accessibility.
When developing your modern bathroom addition design plans, also consider the use of a 2"x6" wall where the drain/vent stack will be located. Drain/vent stacks are typically 3-4" thick and will not fit in a 2"x4" wall.
Also pay particular attention to the location of the main bathroom door, and any bathroom closet door. Make sure they will swing open all the way and won't impede on each other or the bathroom fixtures.
General Bathroom Remodeling Design Ideas
Whether you're constructing a new bathroom addition or simply remodeling an existing bathroom, there are several key modern bathroom remodeling design ideas you will want to consider.
Bathroom Vanity, Countertops and Sinks

When remodeling your bathroom, the replacement of your bathroom vanity, countertops, sink and faucet should be a high priority. These items take a lot of wear and tear, and go out of style regularly.

Bathroom Tub and/or Shower Stalls

The old bath tub should be either replaced or refinished. Consider the use of ceramic tile around it to also dress it up.

In regards to a bathroom shower stall, ceramic tile showers are commonplace in today's modern bathroom remodeling designs. 
If you want to include a ceramic tile shower in your modern bathroom remodeling design, make sure to note that a shower membrane liner will need to be installed to prevent the ceramic shower stall from leaking. If this is a bathroom remodeling idea that you want to pursue you will want to take a look at my Shower Pan Membrane Liner Ebook as it provides specific instructions on how to install a shower pan liner.
Use of Large Bathroom Mirrors
The use of large bathroom mirrors can make a small space feel large, as well as provide more visibility. Lights should be installed on the sides and/or above them.
Bathroom medicine cabinet chests are also an excellent solution for providing both mirror and storage space, without impinging on the bathroom space.

Use of Tile

Most home buyers today want to see bathroom tile, if not on the walls, then on the floors. In addition, you may also want to consider the installation of a ceramic tile shower, as I mentioned earlier.
Bathroom Lighting
A bathroom should be bright and airy. Consequently the use of windows is important in every bathroom remodeling design. Windows let in natural light and air, and they provide charm to a bathroom with the use of window treatments and accessories. If necessary, use frosted windows for privacy, while still letting in natural light.
Wall lighting and overhead lighting are also important in bathrooms. Wall lighting, positioned on the sides or top of mirrors, provides spot lighting. Overhead lighting provides both general lighting as well as ventilation with the use of bathroom ceiling fans.
Bathroom Wall and Floor Covering Materials
Wall and floor coverings can be as extensive as installing ceramic tile on the walls and floors, to as simple as applying a fresh coat of paint on the walls, and vinyl on the floor.
The use of small throw rugs, window treatments and wall decorations are other low cost bathroom remodeling design ideas that should be included in your bathroom remodeling plans.
Replacing the Bathroom Toilet
If your existing toilet works, looks good, and matches the color scheme of your bathroom remodeling design plans, I would suggesting keeping it. Older toilets use more water, but they flush better. Today's modern toilets use less water, but clog regularly.
So with these modern bathroom remodeling design ideas you should be able to update your bathroom in no time. Best of luck with your bathroom remodeling project!
---
For help on your bathroom remodeling project, see my Bathroom Remodeling Bid Sheet. The Bathroom Remodeling Bid Sheet provides a request for quote checklist section that you can provide to prospective bathroom remodeling contractors. It also includes a comprehensive bathroom remodeling cost breakdown table, in Microsoft Excel format, that allows the contractor to include his projected remodeling costs for every phase of the project.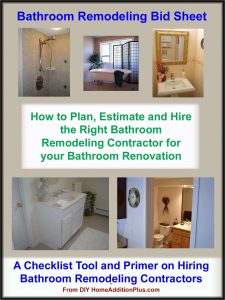 Related Information on Modernizing your Bathroom
---
Additional Bathroom Remodeling Design Resources
---
Get Free Bathroom Remodeling Price Quotes with No Obligation!
Fill out our 3-5 minute quick and easy form, and receive a free price quote on bathroom remodeling from one of our prescreened and licensed bathroom remodeling contractors. This process is free and there is no obligation to continue once you receive your bathroom renovation price estimate.